The Dark Side Of A Strong Job Market
"Hey honey, wheels up at oh-six-hundred hours…"
My friend Seth was on the phone with his wife, relaying the flight plans for their Saturday morning.
"Yes, I know that's way earlier than we planned," Seth said impatiently. "But I have to train some new employees before we can start hiking."
Apparently Seth's wife wasn't pleased.
"Well no one else can do it" he barked into the phone. "I'm taking off at six, with or without you!"
Seth's frustration was definitely on display Friday evening. As a few of us guys sat around his posh office watching basketball, Seth was fielding phone calls and snapping at the various contacts on the other end.
Ironically, despite the heated phone calls, my friend has what many of us would consider a perfect setup!
Seth is a successful business owner.
Over the past decade, he's built a profitable security company that operates in a handful of states and even internationally. Seth has a top-tier private plane that he personally flies to and from his Wyoming vacation home. And six months out of the year, Seth operates his business from another vacation home on a small island in the Pacific.
Sounds like the life of luxury, right?
But on this particular Friday, Seth's life was anything but luxurious.
You see, Seth's off-site trainer had abruptly quit, leaving Seth to handle the weekend training of new recruits himself. Now, at 7:00 PM on a Friday afternoon, Seth had to adjust his weekend plans so he could land in one city to start the weekend training, before jetting back to Wyoming for the scheduled family hiking trip.
Despite all the luxuries his business afforded him, Seth was livid!
The Problem With Today's Job Market
This past Friday, the Labor Department released the April jobs report.
For the month, U.S. businesses added 211,000 jobs, and the broad unemployment rate dropped to 4.4%. This is the lowest level of unemployment in the last ten years.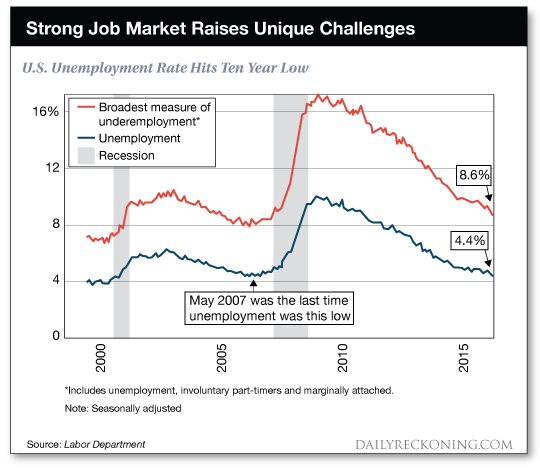 For employees, this strong jobs report is a welcome development. Robust hiring and a low unemployment rate means there are plenty of opportunities for workers. It also means that wages will likely be rising as companies "pay up" for good help.
But for business owners like my friend Seth, a strong job market presents some new challenges.
Today, companies have to compete for top talent. There are simply too many positions to fill, and not enough qualified workers to fill them.
With companies now competing for quality employees, the price (or wage) demanded by these workers is starting to move higher.
"I have to pay them what??" I heard Seth exclaim as he called up his staffing agency to look for a new trainer. "That's ridiculous!!"
Clearly Seth wasn't happy about the going rate for new supervisors in his industry. Perhaps that's why his existing trainer left the company. To earn more from a competing security firm.
While this strong job market means hiring challenges and bigger payroll expenses for Seth, it can spell profit for you — if you know where to invest…
How to Profit From a Hot Job Market
One of the areas most affected by strong employment is the housing market.
You see, as more and more Americans are finding work… and as employers start to pay up for high-quality employees, demand for housing is increasing.
This creates a great environment for U.S. home construction companies for two primary reasons.
First, the number of qualified buyers for new homes is picking up. And this is true on many different levels of the home-buying spectrum.
Demand for low-priced homes is picking up because of the number of new entrants into the job market. With the unemployment rate dropping to a level considered to be "full employment," just about anyone who really wants a job can find one. And that increases demand for "entry level" homes.
At the same time, demand for luxury homes is also increasing. This makes sense because of strong demand for high-quality employees (such as Seth's training supervisor who recently quit). As employees pay up for these high-value positions, more and more Americans can afford to move into higher-priced homes.
The second reason this is such a great market for home construction companies is the relative lack of homes available.
Following the 2007 / 2008 financial crisis, there was a sudden drop-off in new home construction. This made sense because there had been an excess of new homes available. This excess was a major factor in triggering the following recession.
But as often happens, the market over-corrected and swung to an opposite extreme. Home construction dropped off for a decade as builders went out of business. Today, there are far fewer companies building new homes. And a low supply of new homes available on the market.
Economics 101 tells us that when demand is high, and supply is low, that prices will naturally rise. And this is great news for quality homebuilders that still operate in today's market.
So today, following the strong jobs report for April, I want you to take a look at three homebuilder companies that should make great investments this summer:
Toll Brothers (TOL) – Toll Brothers is known for their luxury homes across the U.S.. Fortune ranked TOL as the #1 home builder worldwide, and the company is expected to grow earnings by 10% this year. Look for TOL to trade higher as luxury home prices move higher.
Lennar Corp. (LEN) – Lennar specializes in building communities that include special neighborhood amenities. I'm especially impressed with the company's senior living communities which cater to retired home buyers looking for a special place to enjoy their golden years.
PulteGroup Inc. (PHM) – Pulte builds new homes under a number of brands. The company is able to help first-time home buyers through the entire purchase process, even offering financing through its Cintex Capital division.
All three of these home construction companies should do very well in this strong job market. I suggest buying shares quickly, before strong summer home purchase statistics drives the price of these stocks higher.
I'll be keeping a close eye on the home buying market. There are many moving parts to consider including interest rates, employment levels, the number of new homes for sale, and of course demographic trends.
For now, the environment looks very strong for these three home construction stocks.
Here's to growing and protecting your wealth!
Zach Scheidt
Editor, The Daily Edge
EdgeFeedback@AgoraFinancial.com