How To Profit From The "Car Of The Future" (Hint: It Aint Tesla)
The future is upon us!
Although everything still seems normal, major technology breakthroughs have made us a lot more like the Jetsons than you would imagine.
Just think, self-driving cars are already on the roads, scientists are gearing up for a trip to Mars, and artificial intelligence is allowing robots to have human-like conversations.
You know what? I take back my original statement… We are the Jetsons!
And at the forefront of this revolution is one company. One of the most talked about companies in the world, whose stock has also soared 73% in the last 6 months…
The company I'm referring to is the brainchild of serial entrepreneur Elon Musk — Tesla Inc (NASDAQ:TSLA).
This is arguably the most interesting company on the planet. CEO Elon Musk has brought his Silicon Valley mindset to the automotive industry by eliminating corporate bureaucracy, streamlining operations, and taking out the middleman.
Seriously. You can buy the car online within minutes. While doing research for this article, I actually designed my own Model 3 and made it to the checkout page within a few clicks. And then I thought about sleeping on the couch for the next month…
But back to the company.
No doubt am I a fan of Tesla's vehicles. The thought of never visiting a gas pump again sounds terrific to me. And not to mention that their cars are some of the best looking on the market.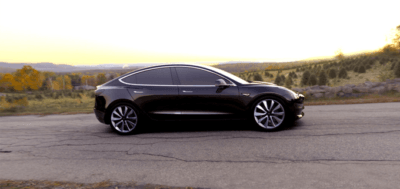 Source: Tesla.com
But as an investor, I can't let myself buy stock in the company, and I wouldn't recommend that you do either. Sorry, Elon. Let me explain.
To evaluate an investment, I stress measuring individual stocks against three pillars of investment success: Capital Preservation, Growth, and Yield. If you are a paid-up Lifetime Income Report reader, you should be very familiar with this strategy.
Here's how Tesla stacks up:
Capital Preservation– Tesla is burning through cash at an incredibly fast rate. Short-term, cash-sucking projects include building charging stations nationwide, Gigafactory building costs, and retooling factories for Model 3 production that is expected to start in July. And in order to finance these projects, Tesla continues to raise additional capital, which dilutes existing shareholder value.
Growth– This is the one pillar that goes in Tesla's favor. Tesla increased vehicle production 64% from 2015 to 2016, and they are on track to continue to grow in years to come.¹ However, that doesn't validate their sky-high valuation.
Yield– Tesla currently doesn't pay a dividend, and probably will not for years to come. That means investors won't benefit from compounding dividends, and will be completely reliant on Tesla's extremely volatile stock price.
In addition to these pillars, I want to add one more detail to put a Tesla investment into perspective…
Tesla is currently valued at $53 billion. That's after delivering just 76,230 vehicles total last year.1
In comparison, Ford (NYSE:F) and General Motors (NYSE:GM) are valued at $44 billion and $51 billion, respectively. And that's after selling 214,695 and 244,406 cars, respectively, last MONTH.2,3
And if you don't think Ford and GM have the resources to compete with Tesla in the self-driving car market, think again.
Just last week, GM CEO Mary Barra said "autonomous cars from General Motors will come sooner than people think." Which could finally give Tesla some competition.
A Better Way To Profit From The New Automotive Trends
So instead of buying stock in Tesla, I'm recommending another strategy to cash in on the new trend in automobiles that should benefit no matter what company makes the car. Because at the end of the day, I do believe that electric and autonomous vehicles are the way of the future.
And the best part, the companies I'm recommending don't just rely on the auto industry for revenue.
I'm talking about the microchip manufacturers that create the technology that goes into thousands of products — like smartphones, airplanes, computers, and video games that all rely on tiny silicon chips to operate.
These companies stand to benefit from a variety of industries, and thus wouldn't be such a gamble like betting on Tesla's volatile stock. Here are a few of my favorites…
Nvidia (NASDAQ:NVDA)– This California-based company is a rising star in Silicon Valley. The chipmaker specializes in the autonomous vehicle and gaming markets, and has recently teamed up with Netflix to speed up streaming. The stock price has mirrored this success as NVDA is up almost 200% in the last year.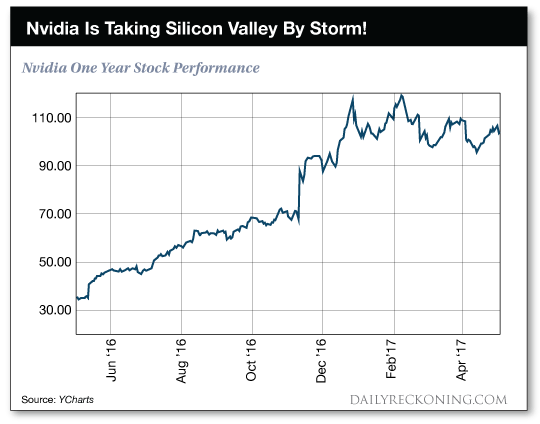 Intel (NASDAQ:INTC)– This is not the Intel of old. This company has geared up for the future by entering both the autonomous vehicle market and the artificial intelligence market. In March, Intel acquired Mobileye, an autonomous vehicle company that CEO Brian Krzanich says will help Intel "merge the eyes of the autonomous car with the intelligent brain that actually drives the car," which puts them at the forefront of the autonomous vehicle revolution. So far, the stock hasn't taken into account this catalyst, which makes today a great buying opportunity.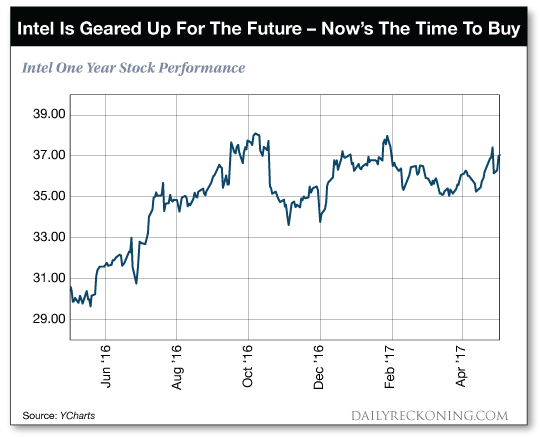 So why invest in a one-trick pony like Tesla when you can take advantage of multiple industries that rely on the same technology? As the "car of the future" becomes a reality, the companies above will have their share of the action.
I'll keep watching the markets as the action unfolds. And as always, I'll be sure to update you on any new opportunities that arise.
Here's to keeping your edge,
Davis Ruzicka
Managing Editor, The Daily Edge
EdgeFeedback@AgoraFinancial.com
1 Tesla deliveries totaled 76,230 in 2016, slightly short of expectations, CNBC
2 Ford April 2017 Sales Report, Investor Reports Ford.com
3 GM Crossover Sales Surge Driving Retail Share Higher, Investor Reports GM.com