The Goldilocks Gold Theory — All Eyes On Today's Fed Announcement
"Whoah! What just happened??"
As I sat back down at my desk after a client lunch, my quote monitor was awash with red and green flashes. The market was going crazy. The value of my portfolio was bouncing around like a pinball. And I had no idea why…
As a rookie hedge fund manager, I was trying to get to know as many clients as I could. My boss and mentor encouraged me to take one client out to lunch each week. That way, they could get to know me and have a better understanding of who was managing their wealth.
On this particular day, our client had asked for a later lunch time. So I didn't get back to my desk until about 2:30 PM. And that's when I noticed the market gyrating wildly, sending stocks sharply higher.
You see, I had scheduled my late lunch on the same day that the Fed meeting adjourned and the announcement on interest rates was released. Rookie mistake!
On this particular day, the decision caught investors off-guard. Greenspan had signaled a more dovish position than expected and stocks shot straight up. It's one of those career days that will stick in my mind forever.
Today's Fed Meeting Could Have a Similar Effect… On Gold!
My rookie lunch mistake is on my mind today as the Fed is scheduled to conclude its meeting on interest rates this afternoon.
At 2:00, the Fed should release a statement which will almost certainly keep target interest rates at their current level. At 2:30, Janet Yellen will begin a press conference in which she will read prepared statements and then take questions from reporters.
Even though the Fed will not be changing rates today, the wording of the announcement and the press conference discussion have potential to significantly affect markets. In particular we could see gold and silver prices shoot sharply higher.
It all ties back to the peculiar spot in the economy, and how this will affect what Yellen has to say.
Let me explain…
Low Rates Naturally Lead to Strong Precious Metals
This is about the best possible environment I've ever seen for gold and silver.
Over the past week, the Institute of Supply Management (or ISM) reported weaker than expected manufacturing in April.. The ISM manufacturing index came in at 54.8 versus a 57.2 level in March. This shows that growth in manufacturing is contracting and that's a significant concern for the Fed.
Why is this important?
Because if manufacturing growth is weakening, the Fed will have a hard time making the case for more rate hikes later this year. I expect Yellen to address this manufacturing issue. And her comments will help investors realize that the Fed won't be able to be aggressive in hiking rates this year.
We've already talked about how hard it will be for the Fed to hike rates. Just a couple weeks ago, on April 17th, I told you that Trump had essentially handcuffed Yellen by telling reporters that he thought the dollar was too strong, and that Yellen should keep a low interest rate policy.
Now with manufacturing growth slowing, Trump will have even more leverage over Yellen.
Already the U.S. dollar index has dropped 4% on the year (a big move for world currencies like the dollar). And if the Fed signals more caution on rates today, you can expect the dollar to fall even lower.
Of course, we know that a lower dollar is great for gold and silver investments. That's because it takes more "weak" dollars to buy an ounce of gold or silver. In other words, a weak dollar naturally translates to higher prices for gold and silver.
Meanwhile… Inflation is Coming!
At the same time that manufacturing growth is slowing, other areas of the economy are heating up.
And that's also great news for gold…
According to IHS Markit economist Chris G. Christopher Jr., we're seeing higher personal spending, elevated consumer confidence, rising disposable income and increased household net worth.1
Meaning the average U.S. consumer is financially healthy, and getting stronger.
All of these factors help to push inflation higher. And as you've probably know, when inflation is on the rise, precious metals like gold and silver soar!
It makes sense when you think about it. Inflation simply means that the price of goods and services moves higher. So in an inflationary environment, the price of gold will naturally rise alongside other commodities.
The consumer price index (or CPI) is the Fed's favorite measure of inflation. And this index hit 1.8% in March.
I consider this the perfect reading for gold and silver investors. That's because the Fed has stated its preferred level of inflation is 2 percent. So if inflation were to get above this level, the Fed would have more of an excuse to raise interest rates. But with inflation just below 2 percent, the Fed has even more reason to be cautious with rates.
Altogether, this is the perfect "Goldilocks" environment for gold. Not hot enough to cause the Fed to raise rates, and not cold enough for gold prices to move lower.
The Proof: Gold's Advance Continues.
While it is important to pay attention to the Fed and to economic data, the proof is really in the actual price of gold
And since the last week in December, gold has been moving steadily higher: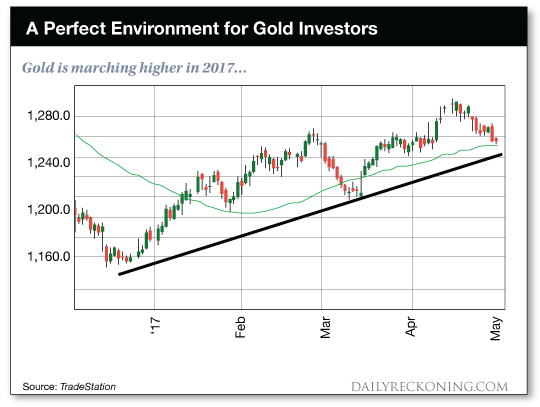 Yes, of course there has been some back and forth on the charts. But that's the way markets work.
As you can see in the chart above, the major trend for gold in 2017 has been higher. And I expect that trend to continue thanks to steady inflation, low interest rates, and a weak U.S. dollar.
Over the last two weeks, gold has ebbed a bit lower. But with the Fed meeting scheduled for this afternoon, and the economic trends we've discussed, I expect the major bullish trend to continue.
That makes today an excellent time to buy gold.
If you don't yet own gold, I think now is a great time to start investing a portion of your wealth in precious metals. And if you're already a gold owner, today is a great day to add a bit more to your position.
But make sure you act before the Fed announcement at 2:00. After all, this is the type of announcement that could gold markets sharply higher.
Here's to growing and protecting your wealth!
Zach Scheidt
Editor, The Daily Edge
EdgeFeedback@AgoraFinancial.com
P.S. One of the few objections my readers have with precious metals is that you can't earn income from gold and silver. But I've found a way to generate instant cash from gold in your brokerage account. Check out this little-known financial maneuver that could put hundreds in instant cash from gold in your account today!
>>>Click here to learn how to capture cash from gold <<<
1 U.S. Consumer Spending Rises After Inflation, While Prices Drop in March, Josh Mitchell, The Wall Street Journal