Trump's $5.82 Billion Gift to J.P. Morgan
Jamie Dimon, CEO of JP Morgan Chase (JPM) has to be laughing under his breath…
In 2016, Jamie earned a cool $28 million, thanks primarily to JPM's generous bonus structure. While the CEO's base salary is "only" $1.5 million, he makes up the difference through cash and stock-related incentive payments.1
Those incentives are likely to grow even bigger this year, thanks to Trump's secret gift to U.S. blue chip banks…
Bank Profits Grow as Trump Policies Fluctuate
We're in the middle of first quarter earnings season, and so far there have been some big surprises.
In particular, U.S. banks have been posting strong profits, with the majority of firms beating expectations.
Below is a table of the largest U.S. banks. As you can see, the majority of them reported higher than expected profits.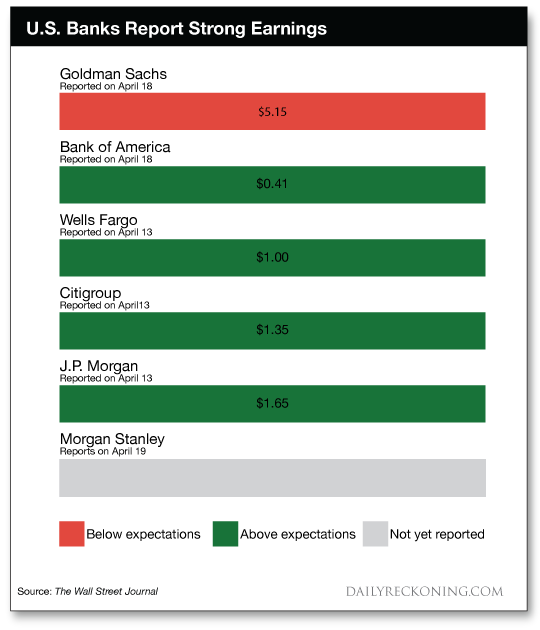 You might be wondering why bank profits have been so strong. After all, on Monday we talked about how Trump has essentially handcuffed Janet Yellen, keeping the Fed from aggressively raising interest rates throughout the year.
Banks typically thrive during periods of rising interest rates. That's because banks can lend out money to borrowers at a higher rate, and book more interest income.
But that's not what's happened during the first quarter. After all, the Fed's target interest rate is still near an all-time low, and banks aren't yet reaping the benefits of higher interest income.
No, the bigger profits came from a totally different area of the banks' operations. One that benefited directly from the Trump Administration
Trump's Secret Gift to Big U.S. Banks
Let's connect the dots between the banks' larger than expected profits and the Trump administration.
Bank profits didn't grow because of corporate loans. They didn't grow because of consumer banking fees. Profits weren't boosted by higher credit card balances.
Instead, the largest U.S. banks generated huge profits from their trading desk operations. In particular, fixed income desks (the bond trading departments) raked in huge profits during the first quarter.
For J.P. Morgan, trading revenue clocked in at $5.82 billion. Citigroup churned out $4.39 billion in trading revenue.2 And Bank of America checked in with $4 billion in trading revenue.3
All of these firms booked huge profits — in spite of the low interest rate environment — thanks to heavy trading volumes.
So what would drive trading volumes higher?
I'll tell you… It was institutional investors trying desperately to hedge their bets and protect themselves in this increasingly uncertain environment.
Think about it for a second…
If you were a hedge fund manager, a pension fund administrator, or if you were in charge of a big endowment, what would you do right now?
You don't know if rates are really going to move higher or not. You don't know if the President is going to be able to pass a new healthcare bill or not. Tax reform is definitely on the horizon, but when will it get passed? And what happens to the economy in the meantime?
All of this uncertainty is creating havoc behind the scenes for these institutional investors. And so these investors are scrambling to adjust their portfolios as new information comes out.
The frantic trading, triggered by rapid-fire policy changes are driving bank profits higher. And that's not likely to change as Trump's policies continue to evolve.
Bank Stocks Pullback is a Gift to Investors
If you pull up a chart of the major banks with strong trading revenues — J.P. Morgan (JPM), Citigroup (C) and Bank of America (BAC) — you'll see that all three have pulled back in recent weeks.
The stocks have traded lower because investors are worried about interest rates staying low.
Low interest rates are definitely a drawback for banks. But as we can see, these banks are generating huge profits from their trading desks as institutional investors adjust to the changing market.
The pullback in these three stocks only tells one side of the story. I believe that higher trading revenues, coupled with less red tape (as Trump repeals the Dodd-Frank regulations), will more than offset the challenges with a low interest rate environment.
This is a good time to pick up shares of these banks at a discount, before Wall Street starts paying attention to profits from Trump's secret gift.
Here's to growing and protecting your wealth!
Zach Scheidt
Editor, The Daily Edge
EdgeFeedback@AgoraFinancial.com
---
1 J.P. Morgan CEO Jamie Dimon Gets a $28 Million Pay Package, Fortune
2 J.P. Morgan, Citi Score Big Gains, but Shareholders Want More, Peter Rudegeair, The Wall Street Journal
3 BofA posts solid growth boosted by trading, rates, Dan Freed, Nikhil Subba, Reuters