Donald Trump Places Janet Yellen in Handcuffs?
Janet Yellen must feel betrayed by Trump.
During his campaign last year, the President lambasted the Fed's zero interest policy. Trump (rightfully) explained how the Fed's zero interest rate policy hurt responsible savers who now receive next to nothing from deposit accounts.
You may remember a few weeks ago the Wall Street Journal published an estimate of how much this policy has cost savers. The article tallied the cost to savers at $1 trillion. That's money that savers could have earned from deposits, padding retirement accounts and flowing back into the economy…
Since Trump's inauguration, the Fed has begun to prepare investors for higher interest rates. In March, the Fed moved its target interest rate to a range of 0.75% to 1.00%. While still paltry compared to historical levels, this is the highest rates have moved since the Financial Crisis.
In addition to the official interest rate hike, Yellen led investors to believe that there will be additional rate hikes this year, with the Fed moving more aggressively to send rates back to "normal" levels.
Looking at the order of events, you would think that Yellen was simply falling into line with Trump's campaign promises. After all, Trump told the American people that the Fed's low rate policy was a disaster!
But last week, Trump turned the tables on Yellen.
In an interview with the Wall Street Journal, Trump made it clear that higher interest rates and the recent strength in the U.S. dollar was bad for the U.S. economy.
"I do like a low interest rate policy, if I must be honest with you. I think our dollar is getting too strong…"
(Keep in mind, the U.S. dollar is rising because investors are finally starting to believe that rates will move higher. It makes sense for international investors to hold U.S. dollars if higher interest rates will give them a better return. That's why the dollar is moving higher.)
By "talking down the dollar" Trump sent a clear signal to Yellen that he has reversed his position on interest rates.
I can just picture an exasperated Yellen shouting "What GIVES?!?" after listening to the interview.
First, Yellen started raising rates in a nod to Trump's campaign promises. And then Trump publicly indicates that he wants the opposite done. By stating that he does not want a strong dollar, Trump is handcuffing Yellen — keeping the Fed from steadily raising rates.
When you really see what's happening here, it's clear that no one in Washington really knows what they are doing. And that's disturbing to say the least.
Fortunately, there are some good ways for us savers to protect ourselves.
Yellen may not be able to raise rates with Trump putting the pressure on her. But that doesn't mean you can't generate a good return on your savings.
The best way to fight back against the Fed's flip-flop on rates is to own gold.
Take a look at the gold chart below, and you'll see that the price has been moving higher this year. In particular, gold broke out last week — at the same time that Trump alluded to the danger of a strong dollar.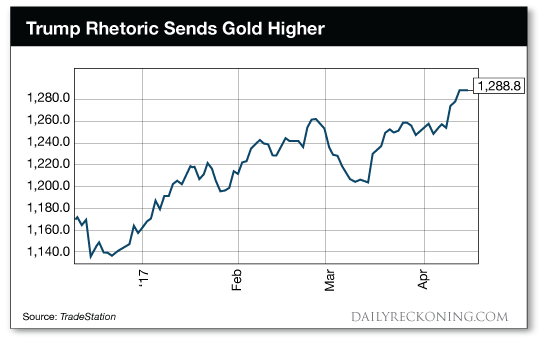 By the way, if you're feeling sorry for Janet Yellen, please don't…
Yellen has been complicit in keeping interest rates way too low for way too long.
The Fed chair has literally stolen more than $1 trillion that would have been paid to U.S. savers. And it now appears that she's prepared to bow to Trump's new position on rates and the U.S. dollar.
This is a story that we'll be following closely throughout the summer.
It's a story that is very important to you as an investor and a saver.
For now, your best way to fight back is to have exposure to gold. That way, as the dollar weakens and uncertainty rises, your savings will be protected. And as the situation evolves, I'll be sure to bring you more opportunities to capitalize on Trump and the Fed's new direction.
Here's to growing and protecting your wealth!
Zach Scheidt
Editor, The Daily Edge
EdgeFeedback@AgoraFinancial.com
1 President Trump's WSJ Interview: Highlights, The Wall Street Journal