Sheiks Vs Shale… (Sorry Saudis, You LOSE)
"Well… THAT didn't work!"
I can just picture Ali Al-Naimi, the Saudi oil minister shaking his head as oil prices moved back above $50 per barrel this month.
A few weeks ago, I explained to you why the Saudi's second try at putting U.S. oil companies out of business wasn't going to work…
In March, Saudi Arabia increased production, in a second attempt to push prices lower and capture a bigger piece of the global market share. But since U.S. shale oil producers have become much more efficient, the U.S. oil industry continues to turn a profit — even with oil trading below $50 per barrel.
Plus, a growing global economy and geopolitical tensions are naturally supporting oil prices. So much for Saudi Arabia's plan to hurt the U.S. oil industry!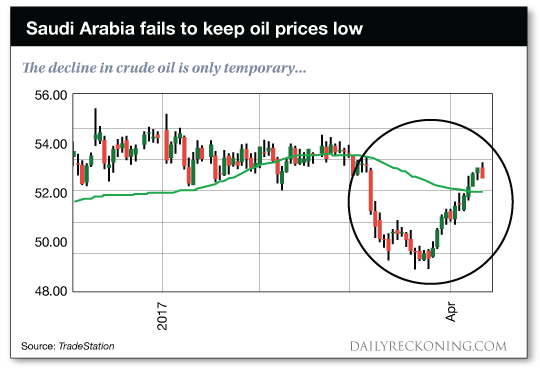 As expected, oil quickly moved back above the $50 per barrel mark. And that's great news for U.S. oil producers. Now these companies can enjoy bigger profit margins, and generate higher earnings for their investors.
Booming U.S. oil is also great for investors, like you and me. In fact, one particular group of U.S. oil producers are set to do exceptionally well…
One U.S. Oilfield That Stands High Above the Rest
If you take I-20 and drive 330 miles west of Dallas Texas, you won't see much above the ground. But you'll be standing on top of the second largest known recoverable oil reserves in the world.
The Permian Basin contains an American oil bonanza so large that the only comparable oil play in the world is the mighty Middle Eastern Ghawar Field.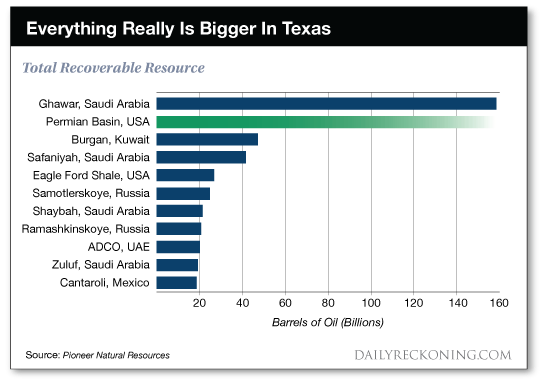 In the Permian, the oil is "stacked" in different zones one on top of each other like a layer cake. An absolutely oil-soaked and absurdly valuable layer cake.
Essentially, since it has 10 oil-bearing formations stacked on top of one another, one acre of land in the Permian is equivalent to 10 acres of land in another shale play like the Eagle Ford or Bakken.
That is why this land is so incredibly valuable. And why oil companies are scrambling to lock in their slice of the cake!
All of those stacked oil formations in the Permian make for very different oil production economics than those of the Bakken and Eagle Ford.
For every dollar a driller spends in the Permian, significantly more oil can be recovered than with a dollar spent in the other shale oil plays. That makes sense given that in the Permian you are tapping into multiple formations.
What that does is bring down the price of oil required to make money producing shale oil from the Permian. It also increases how much money a producer can make at every price of oil.
The Permian Basin is a game changer for the U.S.  No longer can the Middle East oil kingdom dictate prices and production levels for the rest of the world. The monopoly is over. OPEC is dead. Instead, the Permian Basin allows the U.S. to compete in a free global marketplace. More importantly, the Permian Basin gives us energy independence which is crucial for our national security.
Increasing Production, Increasing Opportunity
While the Permian Basin shale play is not a new discovery, recent developments have made this oil field much more valuable.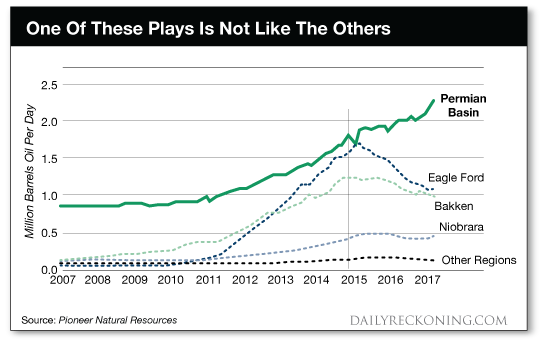 The graphic above shows what has happened to production in the major shale oil plays since oil crashed in late 2014. While shale production in the Eagle Ford and Bakken has declined significantly since the oil crash, shale production in the Permian has continued increasing.
The reason for this is simple: Companies can still make money even at today's low oil prices drilling for oil in the Permian. If you follow the money, it will take you to the best opportunities.
This low cost of production has made land in the Permian the most sought-after oil acreage on the continent. And oil companies that have exposure to this land will be growing profits for years to come.
This is a huge opportunity that I'll be exploring over the coming weeks and months. Especially now that the oil market has proven that Saudi Arabia's power to manipulate oil prices has diminished.
America's oil future is bright. And we've got a front-row seat to the action!
Here's to growing and protecting your wealth!
Zach Scheidt
Editor, The Daily Edge
EdgeFeedback@AgoraFinancial.com
P.S. My research on the Permian Basin has turned up one exceptional opportunity that I just shared with my paid-up readers this week. It's a royalty play that generates more cash as production in the Permian Basin increases. To get all the details on my favorite oil play for right now and how you can get access, click here.