Edge Alert: Don't Make this Rookie Snapchat Mistake
It was 6:20 AM on Thursday morning when I heard the unusual chime.
I was filling up the coffee pot, and about to start waking the kids up for school. My wife's cell phone was on the counter and had been charging overnight. When I looked to see what kind of message was coming in, I got a disappointed feeling in my stomach. If you've been a parent for some time, you probably know exactly what that feels like.
Here's what the notification on my wife's phone looked like…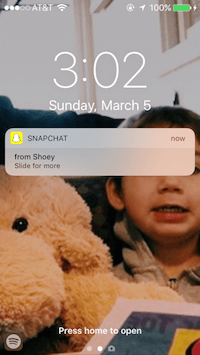 Yes, the icon was innocent enough. And the message turned out to completely innocuous. But there was a big problem brewing at the Scheidt house. And this wasn't going to be an easy school morning.
A Rookie Snapchat Mistake
The message on my wife's phone was actually intended for my 13-year-old daughter. The one who had asked me about adding snapchat on her phone just a few days ago.
Given some early-teen issues we were working through, and some influences that I was a bit concerned about, I said no. The idea was for Morgan to build some trust first, and possibly get Snapchat privileges when she developed a bit more maturity.
As a dad, I wanted to protect her from some of the bad influences out there. And the secrecy behind Snapchat's platform just didn't feel right for her at this time. Morgan knew that I would be periodically checking in on her phone, so she didn't load Snapchat on her own phone.
Instead, she loaded the app on her MOM's phone. She's a smart little bugger!
I might not have caught on, except for the notification that popped up. You see, Morgan forgot to turn off notifications from this app. So when a new message popped up on her mom's phone, Morgan got busted.
Rookie Mistake!!
All of this occurred more than a year ago. We can now look back on the situation and laugh. And I'm happy to say that Morgan has grown a lot in maturity since then. There's much more trust between us these days.
But just like Morgan made a rookie mistake with the Snapchat app on her mom's phone, many investors are going to make a big-time rookie mistake with Snapchat's stock.
Today, I want to help you avoid this rookie mistake…
The Rookie Mistake Investors Make With Over-Hyped IPOs
Last week, Snap Inc. (SNAP) — the parent company of Snapchat — issued its Initial Public Offering or IPO.
High profile IPOs like Snap's are great moneymakers for Wall Street insiders. But unfortunately, these same IPOs can be huge traps for investors who get involved after the deal.
I know, because I used to be one of those insiders who profited from big IPOs.
As a hedge fund manager, one of my responsibilities was to manage our IPO trading. Since our company did a lot of business with investment banks like Morgan Stanley (MS), Goldman Sachs (GS) and J.P.Morgan (JPM), we had access to many of the hottest IPOs.
I would tell our brokers which IPOs we were interested in, and we would get allocations of these stocks before the shares started trading. When a hot IPO like SNAP would start trading at a higher price, we would have an instant profit to lock in. (And often those profits were exceptional!)
Of course, with an instant gain on the books, I would usually start looking for ways to lock in profits on the trade.
And that's the problem with hot IPOs like SNAP. Investors who are given a windfall overnight profit, typically want to lock in that gain. And that means selling shares of stock. Historically, hot IPOs like SNAP soon enter a period where they trade sharply lower.
Avoid the SNAP Shakeout With A Little Patience
If you've been watching the action from the sidelines, you probably know that SNAP's IPO was a huge success.
The stock was sold to inside investors at $17. But on Thursday when it started trading in the market, the price opened at $24. By the end of the day Friday, shares closed at $27.07. That's a 59% gain in just two days!
Wall Street firms in charge of an IPO like SNAP typically give shares only to their very best customers. So unless you're a mutual fund manager, a hedge fund, or an ultra high-net-worth investor, you never had a chance to buy shares at $17.
Now that shares are sharply higher, what do you think the investors who bought at $17 are going to do?
Keep in mind, SNAP's business model is very speculative (to put it lightly).
The company lost $515 million last year alone
Each quarter in 2016 featured progressively worse losses
SNAP isn't expected to be profitable for at least two years (maybe three)
At $27, the company's value is 93 times the annual revenue.
These figures are all very well publicized. And the investors who bought SNAP at $17 are mostly professional fund managers who understand that SNAP is trading at a very speculative price.
If historical trends stay true, the next few weeks will feature a good bit of SNAP selling. Thats because these professional investors will lock in their profits and unload positions.
Individual investors who bought during the hype phase will quickly find their investment under water. When the pain is bad enough, these investors will also sell, sending the stock even lower.
At least one honest analyst at Pivotal Research Group thinks SNAPs price could drop as low as $10.1
With this much risk in such a speculative stock, it makes sense to stay away from SNAP right now.
If you think this company will ultimately be a winner, you should have a chance to buy shares at much cheaper prices once the hype wears off.
The main lesson here is that hyped IPOs like SNAP can generate some incredible profits for Wall Street insiders. But don't make the rookie mistake of buying into the hype. Instead, wait for things to settle down and buy your shares at a more reasonable price.
Here's to growing and protecting your wealth!
Zach Scheidt
Editor, The Daily Edge
EdgeFeedback@AgoraFinancial.com
---
1 Snap's Stock Price Could Be Cut in Half, Andrew Bary, Barron's