Buy This Company To Fight Back Against Greedy Wall Street Advisors
Welcome to The Daily Edge!
Over the next three weeks, you're going to get a first look at some of the great things we have coming for our official launch later this month.
Until then, we will be running the usual publishing schedule — with exciting articles coming your way every Tuesday and Thursday mornings.
Starting Monday February 27th, we are going to be publishing 5 days a week. That means you'll be constantly up-to-date on the most important market events, political movements, and given timely information on how you can earn income in retirement while protecting your wealth.
I hope you're just as excited as I am.
Now, on to today's article!
Trump Sells Out, And Investors Pay the Price
To say that Trump is moving quickly would be an understatement. It's hard to keep up with all of the executive orders that have been signed during his first few weeks of his administration.
One of Trump's biggest moves has been the repeal of the Dodd-Frank regulations. This move should cut red tape for U.S. banks — and makes a jackpot investment opportunity for 2017.
Currently, the banks are required to sit on mountains of cash to meet capital requirements. This cash is sitting idly by, earning next to nothing in interest and dragging down banks' performance.
But once the red tape is lifted, banks will be able to pay this capital to investors through dividends and buybacks.
And we're not talking about a few million dollars here and there. In fact, researchers at RBC Capital Markets believe that repealing Dodd-Frank regulations could lead to more than $120 billion in cash paid back to investors.
Just the top six U.S. banks hold an aggregate $100 billion of "trapped money" that could be flowing to investors' pockets.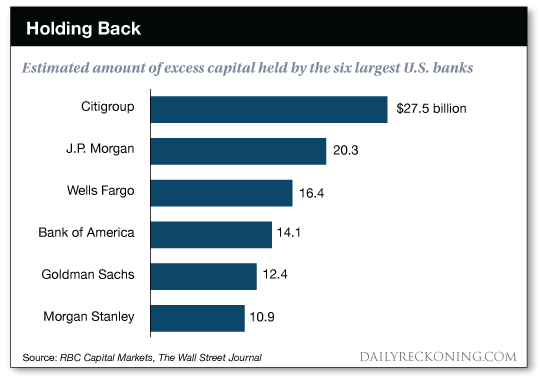 Once this Executive order is put into place, I expect to see dividends and share buybacks pick up — giving investors much more income in the years ahead.
On the other hand, some of Trump's executive orders have caused (and will continue to cause) significant damage.
For example, I'm very disappointed with Trump's order to delay implementation of the Fiduciary Rule this past Friday.
The Fiduciary Rule is the new law which requires investment advisors to "act in the best interest of their clients."
This rule was passed by the U.S. Department of Labor, and is scheduled to start being implemented in April. Investment advisors have been scrambling to implement policies and procedures to ensure that they are in compliance with the new rule.
Now, it looks like these advisors may not have to implement the new procedures after all.
A Free Pass For Wall Street's Greedy Advisors
It's sad to think it takes excessive regulation to ensure that retirement planners are really giving good advice. But that's what our financial system has come to.
Many investment advisors have acted in their own best interest, pitching mutual funds and other products that pad their own pockets, without giving individual investors the safety, income and investment gains needed to fund retirement.
It makes me angry to think that these firms can get away with murder when it comes to giving investors advice that simply adds to their own profits.
And it makes me angry that Trump is giving Wall Street a free pass when it comes to policing the advisors who give such poor advice.
Trump's order is nothing short of a sellout to Wall Street's special interests.
If the fiduciary rule is not implemented, advisors won't have to implement the changes planned for April. These firms will save millions in costs.
And individual investors will get… (you guessed it,) nothing.
I'm not a fan of red tape and excessive regulatory costs. But in the case of Wall Street's investment advisors, these regulatory costs are necessary. I'm tired of reading stories of innocent investors who have been duped out of their retirement savings by greedy Wall Street "professionals."
Unfortunately, there's not much we can do about Trump's executive order.
But there ARE things you can do to protect yourself.
Fighting Back Against Trump, And Winning at Wall Street's Game
One way you can fight back against Trump's free pass for Wall Street is to fire your investment advisor.
I have very little faith in the traditional investment advisor business.
Keep in mind, I used to work in that industry, and I saw what went on behind closed doors.
Most investment advisors are nothing more than salesmen, tasked with getting your money in the door. They make money when you invest your money with their firm. And they make fat bonuses when they convince you to invest more of your hard-earned savings.
Whether your investments trade higher or lower is irrelevant.
The only thing that matters is how much in assets these companies manage. (That's because the more assets they manage, the more fees they can charge. And the more profit they can accumulate.)
At The Daily Edge it's our mission to give you timely, relevant information that can help you grow your investments and protect the wealth that you're accumulating. So you can count on us to bring you unbiased facts, without the same conflicts of interest that spin your advisor's recommendations.
A second way to fight back against Trump's executive order is to piggyback on the profits these advisors are generating.
In other words, turn the tables on your investment advisor buy owning shares of the companies that are benefitting from Trump's executive order. Keep in mind, these firms are likely to see significant cost savings and profits that are well above expectations.
As this executive order changes the regulatory environment, I expect to see shares of financial companies that offer advice move higher.
In particular, Charles Schwab (SCHW) is in a great position to benefit.
SCHW is one of the largest investment advisors with more than $2.7 trillion in client assets. The company should benefit from Trump's executive order, as less red tape should lead to lower expenses.
Analysts expect the company to earn $1.59 per share this year. That represents a 21% increase over last year's profits. And this estimate could increase as regulatory cost savings kick in.
I expect shares of SCHW to trade higher, thanks to these savings and a more lenient regulatory environment. So Trump's executive order is bad for investors who rely on Wall Street's investment advisors. But it's good for those of us who can piggyback on the trend, and own shares of the companies that profit from Wall Street's "free pass."
Here's to growing your income,
Zach Scheidt
Editor, The Daily Edge