Peak Gold has Passed, But Patience Is Key For Striking It Rich
Lately, I've been watching the iron business, in comparison with what's happening in gold-silver. Along these lines, I just reviewed semiannual results from one of the world's largest iron mining firms, Rio Tinto. Rio is a great old name, mostly focused on iron, as well as aluminum, copper and diamonds.
In the first half of 2016, Rio's net cash was down 27% from comparable months in 2015. But the company's net earnings were up by 113%. Higher prices for iron ore in the first six months of this year lifted Rio's profitability, based on a pickup in China's construction industry.
To keep Rio's earnings growing, according to company CEO Jean-Sébastien Jacques, the mining giant will continue to clamp down on costs. Management is concerned about volatile commodity prices, certainly for iron. Rio has an aggressive plan to shave billions from operating costs over the next two years. According to a Rio spokesman, "Cost culture is now embedded across the organization."
Meanwhile, Rio CEO Jacques recently advised investors not to expect much in the way of M&A. "Before we trigger anything," he said, management will ask "are we going to create value for shareholders?" According to Jacques, "We could be boring (in M&A) for a long time."
Let's consider what this kind of thinking might also mean to the gold-silver mining space. After all, whether it's iron mining or gold mining, the fundamental idea always ought to be to "create value for shareholders."
Despite Rising Share Prices, Gold Miners Remain Cautious
For this week's data shot, here's a chart showing year-to-date performance of Rio Tinto, compared to performance of gold (represented by GLD). I also included year-to-date share performance for Goldcorp (GG), Newmont (NEM) and Barrick Gold (ABX) for comparison.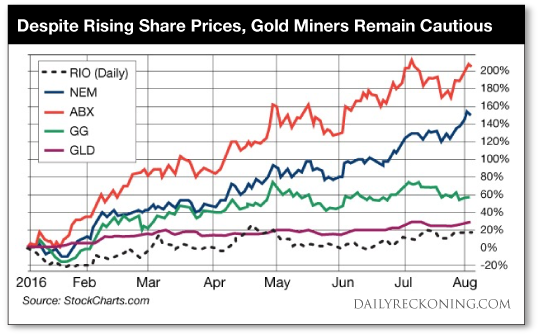 Year to date, Rio shares are up by about 20%. In fact, iron miner Rio generally tracked performance in widely celebrated gold (GLD). Now compare GLD/gold and Rio/iron with several big names in the gold mining space. This year, Goldcorp has moved up just under 60%, Newmont is up 150% and Barrick soared over 200%.
Obviously, gold and iron are different elements with different uses. As Jim Rickards pointed out in his talk in Vancouver last week, gold is not really a commodity. It's not an input to something else; certainly not in the way that iron is a critical input to steel.
So far this year, gold prices have moved up by just under 30%. However, it's hard to escape the idea that these rising prices have climbed one of those proverbial stock market "walls of worry." There's notable sentiment within the investment community that gold prices could tumble. I've encountered sentiment within the mining community that rising gold prices lack strength and longevity.
At the same time, there appears to be solid, market-based support for gold prices. New gold supply is contracting, plus, there's continuing demand for yellow metal from China and the West — certainly from the U.S. for investment reasons. There's also demand from Europe, due to uncertainty about the euro, European Union post-Brexit and general sociopolitical problems there. Along with central banks across the globe pursuing low interest policies and "negative rates," which tend to reduce the holding costs for gold. Thus, it's all good for gold.
If gold can hold its current price levels then we're about to enter into a "sweet spot" of the industrial-commercial cycle. In the second half of 2016, we should see gold mine cash flow rising, while out in the field companies remain focused on cost cutting and capital discipline. This will lift share prices even more. With higher share prices, companies now have more valuable "currency" with which to do M&A.
Right now, many large gold miners are cutting costs and selling gold into a higher-priced market. I expect to see very strong performance on many companies' bottom lines in the next few quarters. When it comes to M&A, though, I expect that management teams at many large companies remain gun-shy about buying new assets, at least until they gauge the continuing strength of the current bull market. One must always beware chasing a rally.
Whether it's gold or iron ore, right now, miners that focus on value, versus volume, can outperform the basic price of what they sell. Nobody is in a hurry to make a M&A announcement, and watch their share price tank. Everything will get extra scrutiny.
In the medium and long term, Jim and I are very optimistic about where gold prices are heading. We're optimistic about how investors can obtain high leverage to value from well-selected small cap exploration/development/mining plays.
Still, the reality is that, just like with Rio Tinto and iron ore, the gold mining M&A space might remain "boring" for a while longer. Don't fret, though… because the hiatus will offer investors more opportunity to buy into great companies ahead of the gold rush to come.
Best Wishes,
Byron King