The Commodity That Could Double Within 18 Months
Last month, I said the time is here to look to profit from unsustainably low natural gas prices. A detailed look at Southwestern Energy, the fourth-largest producer in the United States, provided readers with compelling evidence of this.
With another month of research under my belt, I'm even more convinced.
You see, information from the sixth-largest U.S. natural gas producer (Cabot Oil) shed even more light on the natural gas industry…
Plus, an outside opinion from one of the (better) hedge fund investors of the past two decades also points in the same direction. This is all great news for natgas.
So let's get to it!
The Marcellus Is the 800-Pound Gorilla
If you are looking for a reminder why, as investors, we need to remain humble about our forecasting abilities, look no further than what the Marcellus has done to natural gas.
The wells in the Marcellus are huge, which allows them to create economics superior to what we thought shale gas was capable of. The Marcellus works at lower natural gas prices than any of the other shale plays.
In 2011, the Marcellus was barely a blip on the radar screen. Five years later, it is the most important natural gas field on the planet.
If you weren't tuned in to what the Marcellus was capable of five years ago, there was no way that you could have predicted where natural prices were going. For investors bullish on natural gas prices back in 2010, the Marcellus was the monster hiding in the closet that they didn't know about.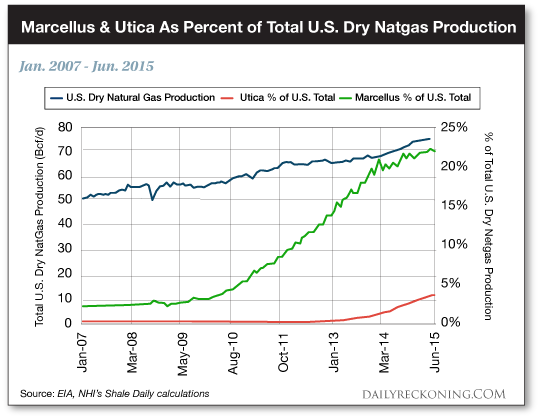 Today, the Marcellus alone accounts for 20% of all of the natural gas being produced in the United States. That isn't 20% of the shale gas being produced. That's more than 20% of natural gas production for the entire country, the largest natural gas-producing nation on the planet.
It is truly amazing. Five years ago, it was insignificant. Now it's 20% of production.
Southwestern Energy is a significant operator in the Marcellus and the fourth-largest natural gas producer in the U.S. I showed you last week how Southwestern's production won't just stop growing in 2016 but will actually decline by 25%.
Today, I have information that covers a much wider swath of Marcellus production.
In its first-quarter 2016 earnings call, Cabot Oil & Gas revealed that the company had done some serious investigative work on where Marcellus production is headed.
Cabot scrubbed the production data for more than 4,000 natural gas wells in northeast Pennsylvania (Marcellus and Utica formations, mainly). The company engineers created future production estimates for every one of these wells in this key area.
I love it when we can get an opinion based on high-quality data.
Cabot's engineers found that these wells will have a 25% decline in production from the end of 2015 through the end of 2016.
Sounds familiar, doesn't it? That is exactly what Southwestern has guided that its production is going to do.
Natural gas production won't decline by the full 25% in northeast Pennsylvania, but with the 120 wells that Cabot believes will be completed over the remainder of the year… production will decline.
This is crucially important for natural gas. This region has accounted for almost all natural gas production growth since the start of 2012, and every other play is going to be rolling over harder than the Marcellus in 2016.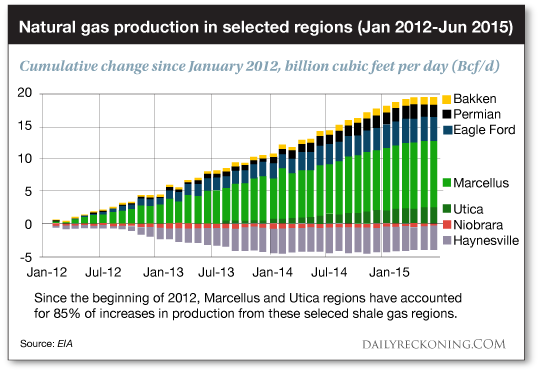 Cabot's corporate presentation provides some additional information that hammers home just how dramatically activity is dropping in the Marcellus.
The slide below is the kind that people are going to look at 18 months from now and wonder how everyone wasn't banging the table on natural gas right now.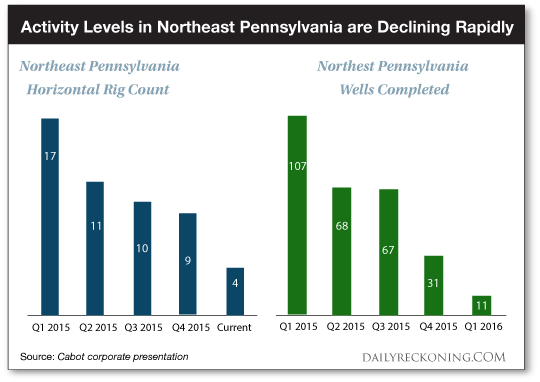 The slide shows that in the first quarter of 2015, the northeast Pennsylvania operating rig count stood at 17. This year, it was just four.
That is a 76% decrease.
The number of wells being put on production (completed) has dropped even further, from 107 last year to just 11 in 2016.
Bentek Energy reported that last week U.S. natural gas production decreased by 1.8% year on year. This should only be the start of what is to come.
David Einhorn Is Willing to Bet Some Money on This
Last month, David Einhorn's Greenlight Capital's first-quarter 2016 investor letter came out. In it, Einhorn reveals an interesting macro bet on natural gas prices.
Einhorn thinks natural gas is going up!
He was even willing to place a bet on when he thinks natural gas prices will increase.
Einhorn went "long" the natural gas calendar strip in 2017 at an average price of $2.71 and long the 2018 strip at an average price of $2.84.
For Einhorn to make money, he needs natural gas prices to exceed those two average prices.
There is no way Einhorn goes long at those prices unless he thinks natural gas can get to $3.50 or $4.00 by then. He wouldn't be looking to make 10% off a macro trade like this.
Einhorn gave his reasoning for this trade, and it has all of the elements I have touched on:
Current drilling is uneconomic
The level of drilling is dropping
Decline rates on shale production are high.
Einhorn thinks that normal weather in 2016 will have us looking at a natural gas shortage within a year.
So What Do We Do?
Two months ago, I wrote about how Whiting Petroleum provided an intelligent way to get a lot of leverage to rising oil prices. That has worked out pretty well so far, and I think there is a lot of room left for Whiting to run as oil continues to rise.
I'm looking at a few companies that might offer a similar kind of opportunity for natural gas.
Weather can keep natural gas down for longer than we might expect. But sooner or later, it is going to go a lot higher. That means we need companies that can withstand these brutal prices for a few years in case the turn comes later rather than sooner. That safety is hard to find while still getting the leverage we're looking for to natural gas moving higher.
Keep looking through the windshield,
Jody Chudley