T. Boone Pickens is Correct that Oil Will Rise — But Here is the Real Reason Why…
I believe everything is setting up for much higher oil prices by the end of 2016.
Today, I want to show you why I think that.
That way you can use the information I'm looking at to draw your own conclusions.
Let's get started…
Observation #1 — The Glut Hasn't Been Getting Worse
In late November, I wrote about how global oil inventories had actually been moving in a pretty normal manner in recent months. On a day-to-day basis, the "glut" had stopped getting a lot worse. To me, that would seem to suggest that the amount of oil being produced and consumed was not that far off being balanced.
That is good, but we still have to deal with that glut of oil that is sitting in inventory. A glut that was built up late in 2014 through May of 2015, when daily oil production significantly exceeded daily oil demand.
Based on the most recent Monthly Oil Market Report from OPEC, there are probably 200 million barrels of excess inventory to work off (the difference between the dotted red line and the top of the blue shaded area below).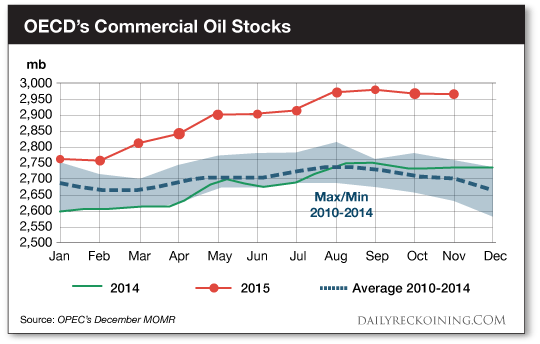 We need to see that inventory start to move in a manner that suggests that supply and demand have moved from a balanced state into a daily shortfall.
We won't see that in the first quarter, as seasonal demand weakness will mean that inventories will build. Over the remainder of the year, I believe it will happen.
Observation #2 — Daily Oil Demand Will Grow Again in 2016
The middle-of-the-road view among the major reporting agencies is that we are going to add another 1.2–1.5 million barrels of daily oil demand in 2016. We add a million in an average year. With oil at these prices, it will be more than usual this year. I've seen estimates for how much oil demand increased globally in 2015 range as high as 2.0 million barrels per day.
Imagine how bad the glut would have been without that demand response.
Don't be misled by the news about China imploding. To this point, it has not impacted oil demand, with imports hitting an all-time record of 7.8 million barrels per day in December.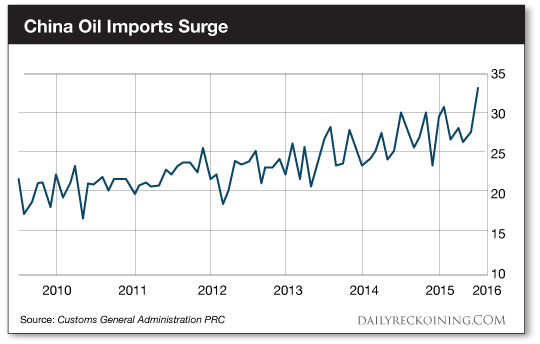 If you start with daily production and supply that are pretty much in balance and add 1.2 million barrels per day of demand to it, you will find yourself in a shortfall.
Observation #3 — U.S. Production Is Coming Down in 2016
Hedge fund star Kyle Bass was on CNBC earlier this month, and his firm has been counting barrels. He believes U.S. production will come down by a million barrels per day, from 9.6 million barrels per day in May 2015 to 8.6 million barrels per day by June 2016.
The monthly EIA Drilling Productivity Reports, which project shale production to be declining by more than 100,000 barrels per day per month, would support this.
The EIA monthly numbers show that U.S. onshore production (the red line below) has dropped from 7,683,000 barrels per day in March 2015 to 7,225,000 barrels per day in October 2015 (the latest month available). That is a 458,000 barrel per day decrease.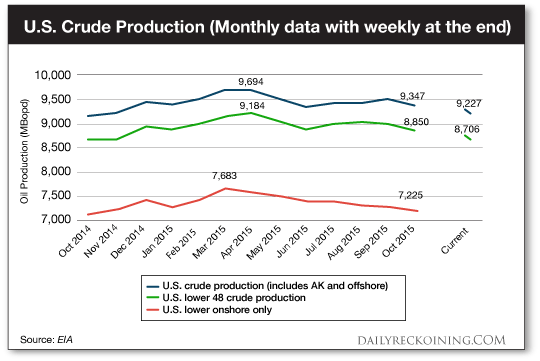 Total U.S. production (the top line) over that same time period is down only 347,000 barrels per day because a couple of large projects in the Gulf of Mexico came on stream.
The decline in onshore/shale production will continue in 2016 given the known decline rates and low rig count. Those new project starts in the Gulf of Mexico will be few and far between.
Observation #4 — Production Declines From Unexpected Sources
Last month, oil pipeline monopoly Transneft said that Russian oil exports are expected to drop by 460,000 barrels per day in 2016. If true, that could be extremely significant both because of the large export reduction itself and because it opens the door for OPEC to save face and do the same.
The Saudis have repeatedly said they are willing to cut, but not without help from others (meaning Russia). Now maybe they can.
The CEO of giant Russian producer Lukoil was interviewed last month, and he too thinks Russian production will decrease in 2016.
Production from Iraq also may not just stop growing in 2016 but also decrease. A spokesman from the Iraqi Oil Ministry said that Iraq is planning to reduce oil production from 3.8 million barrels per day to 3.6 million barrels per day in 2016.
Again, the cut is significant, but so too could be the message to the Saudis.
If I tally those three things up, it turns into a pretty big number:
1.2–1.5 million bopd of global oil demand growth in 2016
1.0 million bopd reduction of U.S. onshore production
660,000 bopd reduction in Iraq and Russia production.
Those alone combine for more than 3 million barrels per day.
If I'm right that the daily oil supply and demand are already pretty much balanced (or even oversupplied slightly), we are going to be drawing down inventory at a very significant pace in the second half of the year.
Yes, Iran is going to add a few hundred thousand barrels of production, but I haven't modelled any of the production decreases that we know are going to be taking place in Brazil, Colombia and Mexico (as well as other places).
Of course, as always, OPEC could fix the market tomorrow if they could agree on even a 5% production cut.
The Irony of It All… Spare Capacity Has Never Been Thinner
For investors, the most obvious data point with respect to oil is the huge amount that currently sits in inventory around the globe.
What is much less obvious is what is going to happen next.
The quantity of oil inventory tells us what has happened. It does not in any way tell us what is going to happen.
It also masks the fact that the world is running with the smallest amount of spare capacity that it ever has. (Spare capacity being the amount of production that could be turned on in short notice if the need arose.)
The Saudis were whom we used to be able to count on for our spare capacity… our margin of safety should a large amount of production go offline. The Saudis are producing more than they ever have, and whether they are even capable of more is debatable.
During the last extended oil bust in the mid-'80s OPEC had a whopping 10 million barrels of spare capacity against 60 million barrels of total global production. That meant that spare capacity was 16% of production and therefore provided a huge cushion against an unexpected production outage.
Today the consensus is that there is only about 1.5 million barrels of spare production capacity (mainly the Saudis) against 96 million barrels of production, which is a measly 1.6%.
If we didn't have an unusually large amount of oil sitting in inventory, I believe the world would be paying very close attention to this fact.
Meanwhile, with that measly amount of spare capacity, the Middle East is in total chaos. Missiles are actually being fired at Saudi Arabia from Yemen on a regular basis. Libyan oil facilities are regularly being attacked. Iraq is in worse shape than ever, and anything is possible in the region, with ISIS ready to blow up pipelines in several producing nations.
If what was going on in the Middle East today had happened three years ago, we would have seen oil at $150 per barrel easily.
I would have found watching what has happened in the oil market to be fascinating if I weren't living right in the middle of the carnage. I've got far too many hardworking friends who have gone from having great jobs to having no income and unforgiving mortgage payments.
These people can't see a light at the end of the tunnel.
That doesn't mean that there isn't one. It just might take until we get through the seasonal weakness of the first quarter to see it. After then, inventories should really start drawing down and belief in a recovery set in.
That recovery would be a year late thanks to the Saudis increasing production into an already oversupplied market last spring. Hopefully, there isn't another unexpected surprise like that one that pops up this year.
Keep looking through the windshield,
Jody Chudley