The Fed's Split-Personality Disorder… Is Getting Worse
"I sometimes think if we knew all, we should be more glad to get away."
— Robert Louis Stevenson, Strange Case of Dr Jekyll and Mr Hyde
Here's a question for you…
At any point in 2015 did you feel 100% confident the U.S. Fed WOULD raise interest rates?
Now a second question….
At any point in 2015 did you feel 100% confident the U.S. Fed WOULD NOT raise interest rates?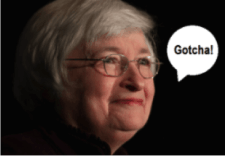 If you answered yes to both questions, then take a look Janet Yellen's wry smile in nearby photo.
Her plan, and that of the U.S. Fed, is working!
Throughout the year, the ebb and flow of money, markets and rates has been nauseating to investors. The markets churn and chop… up in Q1, even in Q2, down in Q3. The same volatility exists on a day-to-day basis, too.
The rats on the Mayflower probably had a smoother ride.
But today we're getting a much clearer picture of what's really going on behind the curtain of the Fed's puppet show. In fact, it's becoming more obvious that the person pulling the strings has a split
Two Sides of the Fed
The best analogy is that of Dr. Jekyll and Mr. Hyde — or, in this case, Chairman Jekyll and Mrs. Hyde.
We all know the story of Jekyll and Hyde. A doctor by day and a monster by night. Distinguished and professional turned to sinister and repugnant.
The transformation from man to monster was brought on by a serum. With a simple swig, Dr. Jekyll could transform into Mr. Hyde — allowing him to indulge the sinister side of life without detection.
Janet Yellen has a similar split personality. And after last month's speech, we're getting a better understanding of what Chairman Jekyll and Mrs. Hyde are thinking. For better or worse.
Before we go on, though, you've got to realize one important fact in today's market: There's enough good and bad data to weave any storyline. If you need positive news? Talk about jobs. If you need negative news? Talk about China's economy. And so on.
So you see, Mrs. Yellen has a complete array of serums in her possession. With one swig, she can flip the script.
And script flipping has become the norm these days.
Last month during the Federal Open Market Committee (FOMC) meeting, Yellen left rates unchanged, citing "recent global economic and financial developments may restrain economic activity."
Thus did Mrs. Yellen throw cold water on the markets with fear of a global economic slowdown. From peak to trough, the Dow dropped 900 points in under five trading days. If it was a reaction Chairman Jekyll was looking for, she got it.
But a week later, however, we saw a different side of the chairman. With a sip of serum in hand, she painted a much rosier picture of the U.S. economy, noting that global forces may not hamper a coming rate hike.
Yes, dear reader, within a week's time, we got to see both Dr. Jekyll and Mrs. Hyde — along with the hot and the cold of the market.
So what's the point? Why would Dr. Jekyll want to sip that personality-splitting serum?
It's clear that right now Yellen and the Fed are simply testing the waters. With the first rate hike in nearly a decade quickly approaching, the Fed is still trying to figure out what to do, and how to do it. And if history is any guide, I'm sure the gang is thinking creatively.
In the meantime, and over the past nine months, investors are subject to the Fed's experiment phase ("Gotcha!"). Which reminds me of the quote I highlighted above…
"I sometimes think if we knew all, we should be more glad to get away."
Indeed, while this game of rate hike or no rate hike plays out, the markets will likely continue to churn.
For buy-and-hold investors, it may be better just to turn a blind eye as this volatility plays out.
Where to From Here? The Dollar, Gold and Markets…
Other than watching the theater of Dr. Jekyll and Mr. Hyde play out in front of us, there's plenty to be said. Let's have a look…
For starters, regardless of what the Fed does, the U.S. dollar looks to remain strong. Looking at the dollar index chart, we're not likely to see a massive pullback in the greenback for a while. Support looks steady around 95.
Also, the rise in the dollar index from May 2014 till now is real. The euro is weak and will stay that way for the next 12 months, and likely more. Euro weakness will continue to prop up the U.S. dollar — regardless of the Fed's rate hike plan.
Moving on, if you're like me, you've seen the precious metals market flashing green on your screen a lot lately. But I must admit I'm still leery of the upside potential in gold. Especially with Fed volatility clearly playing a role.
Look at the two-year gold chart and we've seen nothing more than lower highs and lower lows for gold. For gold to make a substantial move higher, we're going to have to see either sustained prices above $1,200 (so we can build a base) or a sharp breakout move above $1,300.
Last but not least, the financial markets are at a pivotal point.
Although we're early in the game here, we may very well be looking at the end of the Fed-fueled bull market in equities. Looking at the S&P chart since 2009, we could be in the midst of a major break of our long-term uptrend.
We saw a similar breakdown in 2011. However, that was also back when the Fed had a bazooka of monetary policies in the works. That said, for the time being, we'll want to keep a keen eye on the long-term trend for the S&P and Dow. Any major breakdowns could signal a "risk off" scenario, with most of the opportunity on the downside.
That's all for now.
Keep your boots muddy,
Matt Insley