Why Most Investors Are Wrong About Oil — And How It Can Pay You 5.1%
Dear Resource Hunter,
Sometimes investors do things that don't make any sense at all…
They pay outrageous prices for technology startups with no earnings and no hope of turning a profit
They sell stocks of quality companies after one "hiccup" in quarterly earnings
They "diversify" by purchasing three different mutual funds that all own the same stocks
They "swing for the fences" buying speculative options that will most likely expire worthless
Or they never take any risk and are doomed to tiny gains that don't even keep up with inflation.
These are some of the ways investors can either miss out on opportunities or take unnecessary losses.
The good news is that wise investors who pay attention can often capitalize on the mistakes other investors make.
And today I want to show you a deeply misunderstood area of the market that lets you profit from the mistakes other investors are making.
I want to explain why I believe stocks in this sector have been trading lower, and why I want to buy more shares at today's cheap prices…
Three Reasons Pipeline Stocks Are Trading Lower
Energy pipeline companies operate oil and natural gas pipelines in the U.S. and have benefited from the dramatic increase in domestic natural gas and oil production.
The more oil and gas we produce, the more product flows through this network of pipelines. And since the companies charge their customers based on the volume of oil or gas being transported and the distance that the oil and gas must travel, the pipeline companies make profits whatever the price of oil and gas is.
These pipeline companies traded sharply higher at the end of last year. But so far in 2015, these stocks have given up some of their gains, for reasons you're about to see.
First, let's take a look at three mistakes investors have made with these stocks. Then I want you to make sure you're invested in one of these lucrative income opportunities.
Mistake #1: Selling All Energy Stocks
It's no secret oil prices are sharply lower than they were a year ago. The U.S. has been tapping into shale rock formations with a technique called "fracking," which has led to much higher production. Saudi Arabia countered by pumping record amounts of oil, hoping to put the "frackers" out of business by lowering oil prices.
And oil prices are down more than 45% from the 2014 peak of $108.59 per barrel, meaning smaller profits for oil producers.
So investors have responded by selling all their energy stocks. It's "sell, sell, sell" for anything energy related.
But not all energy stocks are the same!
For example, pipeline companies aren't hurt by lower oil prices at all. In fact, many of these companies are making larger profits because they're pumping more oil. Remember, they get paid by the volume of oil they transport. So investors are throwing the baby out with the bath water as they ditch their energy stocks.
This indiscriminate selling has sent pipeline stock prices lower. But the businesses remain very strong. The market will figure that out soon enough.
Mistake #2: Expecting Saudi Arabia to Win
Saudi Arabia wants to put U.S. oil producers out of business. Their hope is that oil prices drop so low that U.S. energy producers will quit drilling. Saudi Arabia can then sell more oil to the U.S. and keep a large portion of the global oil market.
Some investors have sold shares of pipeline stocks because they believe Saudi Arabia will be successful in putting shale producers out of business. These investors think less oil will flow through pipelines when U.S. production drops.
The problem with Saudi Arabia's strategy is that U.S. energy producers are becoming more efficient. A U.S. shale well costs less to drill and can be drilled much more quickly than a year ago. Take a look at the chart below to see just how efficient U.S. drillers have become.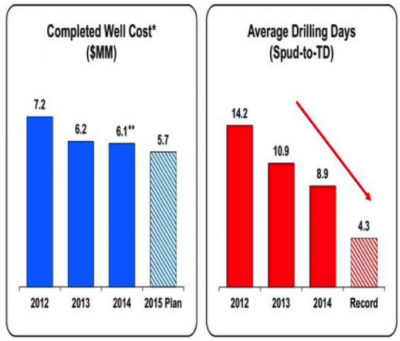 Source: EOG Resources
With costs per well decreasing, U.S. drillers can continue profiting, even at lower oil prices. So oil should continue flowing through U.S. pipelines and profits should remain high. Once investors realize that, I expect pipeline stock prices to trade higher again.
Mistake #3: "Reach for Yield" Fears
We've talked about the "reach for yield" that's occurred over the last several years. The Fed cut rates to near zero, forcing income investors to sell bonds and deposit accounts and buy dividend stocks. Low interest rates helped drive blue chip dividend stock prices higher as conservative investors rushed to buy.
But today many are concerned these conservative investors will sell these blue chip dividend stocks when rates rise. These conservative investors will then buy bonds and CDs that pay higher rates of interest.
It's a legitimate concern — and that's why we don't hold many "traditional" dividend stocks in the consumer staples or utilities sectors.
But this concern doesn't apply to pipeline stocks. Investors who'd normally be holding bonds or CDs didn't decide to buy pipeline companies. Instead, they bought shares of Procter & Gamble or Duke Energy.
Now some investors are selling pipeline stocks because they're afraid other investors will sell when rates rise. This is a good example of being too smart for your own good. These investors are afraid of monsters under the bed — and their fears are unfounded.
Buy Pipelines While Prices Are Low
U.S. pipeline companies are still in great shape. Investors are seeing solid profits with pipeline stocks, and collecting lucrative income from them. And the recent decline in the stock prices has given us another opportunity to own these companies at attractive prices.
One of my favorite pipeline stocks is Enterprise Products Partners (EPD: NYSE), going for about $30 a share with a 5.10% dividend. I recommend you put them in your portfolio before they start trading higher.
Zach Scheidt
Zach Scheidt
for The Daily Reckoning
P.S. Ever wonder how you can make a lot of money from oil without owning a well? Or whether or not you should buy gold and silver? Or is fracking just a flash in the pan? Get insight, insider scoops and actionable investment tips twice a week with Daily Resource Hunter? Just click here for a FREE subscription!