Rick Rule: Some of the Best Oil Plays Are in "Midstream" Stocks
Dear Resource Hunter,
"Midstream" oil stocks are this attractive about once every decade, says Rick Rule, Chairman of Sprott U.S. Holdings.
In a recent round-table with Byron King (Agora Financial) and Matt Badiali (Stansberry & Associates), Rick explained why he's looking at one segment of the oil sector. You can listen to his full comments here (registration required):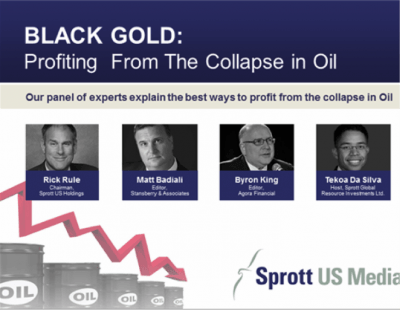 Midstream companies are involved in processing and transportation of oil and gas. These companies have been popular with investors because they may be less risky and volatile than exploration and production companies.
They tend to make money through long-term transportation contracts that are "insulated" from oil price swings.
In particular, Master Limited Partnerships (MLPs) own transportation infrastructure such as pipelines and charge oil companies to move oil and gas to market. These companies pass on their revenues to shareholders, which can lead to large dividends with moderate exposure to oil and gas prices.
The last major opportunity for MLPs was in March 2009, after the financial crisis cut down energy prices and stocks. The Alerian MLP index, which tracks 50 prominent companies in the sector, rose 356% from then through September 2014.1
MLPs are not completely independent of oil prices. Since September, the Alerian MLP Index is down around 25%. Last year, Boardwalk Pipeline Partners cut its payout to investors by 80% after it failed to renew its existing contracts with oil producers.2
Rick sees this as a good chance to start buying MLPs as they're still generating attractive yields. The Alerian MLP Index pays a 6.29% yield as of June 29, versus 2.04% for the broad stock market (as represented by the S&P 500).
"We are seeing returns of 6% cash already, and MLPs will be able to grow their topline free cash flows," says Rick.
He believes that some MLPs will be able to pay out even more thanks to today's ultra-low interest rates. MLPs can borrow cheaply to acquire new assets from distressed sellers – groups that are "monetizing" their processing and transportation assets to pay salaries.
MLPs can increase their payouts from here if they act aggressively and use low interest rates to fund acquisitions, says Rick.
Rick also believes there is an opportunity to fund exploration and production in oil and gas, by lending money or acquiring stakes in projects.
Bankers are less willing to lend money for oil production now. As Rick explained, during the last few years where oil prices were high, individual bankers often booked big bonuses for making loans to oil and gas firms. Their bonuses didn't depend on how well those loans performed over the long haul, so this led to lower standards and excessive credit being extended for oil and gas.
Now that returns are being affected by low oil prices, banks will probably revise their incentive structures, so that individual bankers will not pour as much money into oil and gas.
At the same time, financial regulations known as "Basel III" discourage the largest banks from lending to private companies – like those in the oil and gas sector.
Rick explained how this works:
"Banks have different reserve requirements for different classifications of loans.
"If Deutsche Bank, which is one of the major capital banks, makes a loan to Shell or Exxon, they have to make a provision for that loan on their balance sheets. They have to set aside 7% or 8% of the value of that loan (in case it goes bad).
"By contrast, if they were lending money to a sovereign entity – even Greece, Ireland, or Portugal – the bank doesn't need to have any provision for that loan so long as they purport to hold that loan to maturity, irrespective of its market valuation in the future.
"So a bank can borrow cash from depositors at 1% and lend it out to a sovereign borrower at, say, 3.5%, picking up 2.5% without having to reserve any space on its balance sheet.
"So the incentives are increasing for big banks to make sovereign loans as opposed to loans to private companies (where they would have to make higher loss provisions)."
Now that banks are less interested in making loans to oil and gas companies, this can be a good opportunity to step in as a lender, says Rick.
You see, some oil and gas companies stand to lose their drilling rights on a property if they do not go through with drilling. In some cases, they may have spent $1 million or more preparing a property for a drill program. That money has gone into administration, exploration, 3D seismic, or geophysical surveys.
That investment will go to waste if the company loses its drilling rights, so investors can obtain favorable terms if they choose to participate, says Rick.
"The industry has 'down' cycles. Being aggressive during those down cycles and then profiting during the last three upcycles is what made me rich," Rick comments.
Want to know more about how to play upcycles and down cycles?
Meet us in Vancouver this summer, at the Sprott-Stansberry Vancouver Natural Resource Symposium. Rick will be hosting the event and speaking with investors at length.
Henry Bonner
for The Daily Reckoning
P.S. Ever wonder how you can make a lot of money from oil without owning a well? Or whether or not you should buy gold and silver? Or is fracking just a flash in the pan? Get insight, insider scoops and actionable investment tips twice a week with Daily Resource Hunter? Just click here for a FREE subscription!