2 Ways to Play the Coming Return to Nuclear Power
[Ed. Note: The global return to nuclear power appears to be building to an unstoppable trend. By investing in uranium plays now, investors could see big gains as demand for yellowcake returns to pre-2011 levels. Byron King explains in detail, below, and relates some eye-opening facts he learned from the 40th New Orleans Investment Conference.]
I was on the road last month, visiting companies and scrubbing ideas. At one point, the airliner landed at Louis Armstrong New Orleans International Airport (MSY).
Next thing I knew, I was at the Hilton Hotel, where Poydras and Canal Streets meet the Mississippi River, attending the 40th New Orleans Investment Conference; aka the "Gold Conference," started by the late, great guru of precious metals, Jim Blanchard…
Looking back, during years when precious metals were red hot, and buyers felt richer every day/week/month, the Blanchard Gold Conference pulled attendance in the range of 5,000 investors. Blanchard packed 'em in, to be sure. "Laissez les bon temps roullez," as they say down in the Big Easy. Let the good times roll. Everybody loves winners, right?
But this year, attendance at the Gold Conference was under 1,000, by my eyeball view of the crowd. Of course, investor morale is low across the hard asset space; it's difficult to find many recent winners in this particular investment arena. After all, we've endured three years of price declines and stagnation for physical gold, silver, platinum and more; "real" metal isn't making much money for long-term holders. Then again, one holds physical metal long-term for wealth protection, too.
"… globally, there's no U.S.-style gas glut. Energy is dear in most places."
Despite the attendance decline, this year's Gold Conference drew a high-quality audience — savvy, knowledgeable investors, including many of my readers who walked up to say hello. It was truly a pleasure to talk with people in New Orleans, to get a feel for what they believe is important, and where they hope to go with the markets.
Up on stage, this year's Gold Conference did not lack for great speakers. The roster included an array of presenters, ranging from "marquee" names like columnist Charles Krauthammer and former Fed Chairman Alan Greenspan; to other well-known movers and shakers in the resource space, like Rick Rule and Doug Casey.
Plus, the Gold Conference boasted a long list of superb writers and investment advisers, like Mark Skousen and Frank Holmes. Other speakers included executives and technical staff from exhibitor companies, with many truly insightful comments on what they see from their end of the development and supply chain.
I picked up many great takeaway ideas at the Gold Conference. There's plenty to tell you; but for this note, let's focus on one very beaten down, but promising, sector.
As with the gold sector, share prices for uranium companies have suffered in the past three years. The trigger was the Fukushima disaster in Japan, in March 2011, which pushed investments in nuclear power over a cliff.
That is, post-Fukushima, everybody in the world who deals with nuclear power had to look hard in the mirror, and perform a top to bottom review to determine if any of Japan's problems might impact their own situation. Quite a bit of new investment simply froze in place, if it wasn't cancelled. As you can imagine, this hiatus extended to the exploration and development side of the uranium yellowcake business.
Now, apparently, after three-plus years, the Fukushima logjam is beginning to break, as I'll discuss in a moment. Let's begin with some overarching facts:
Across the world, one finds 435 operational reactors in 30 countries.
Looking ahead, we have 72 reactors under construction in 14 countries, with 100 or more in the early planning stages.
Right now, the world has 374,504 MW of total net installed nuclear capacity, which translates into 12% of global electricity production from nuclear; with 13 countries pulling one-fourth or more of their electricity from nuclear power.
Here in the U.S., with our recent abundance of natural gas from fracking, it's easy to allow these important facts about nuclear power to fade into background. Yet globally, there's no U.S.-style gas glut. Energy is dear in most places.
In Japan, for example, utility companies pay over $17 per thousand cubic feet (mcf) for liquefied natural gas (LNG), versus about $3.75 per mcf at the wellhead for gas here in the U.S. In other words, countries without ample gas supplies pay big bucks for energy, and thus still have their eye on nuclear power. Indeed, Japan is on the cusp of reopening many of its closed nuclear plants in the next two years.
Globally, the installed nuclear base is large, very significant and growing — if not vital to the energy supply of certain nations. Pull the plug on nuclear power, and lights will start going out in many places.
Now consider that each nuclear reactor has a useful life of 50 to 80 years. It's clear that there's future uranium demand well through this century. How much? And are current mining operations and supply chains sufficient to feed these nuclear units? Consider this chart, from one of the New Orleans convention's most intriguing up and comers…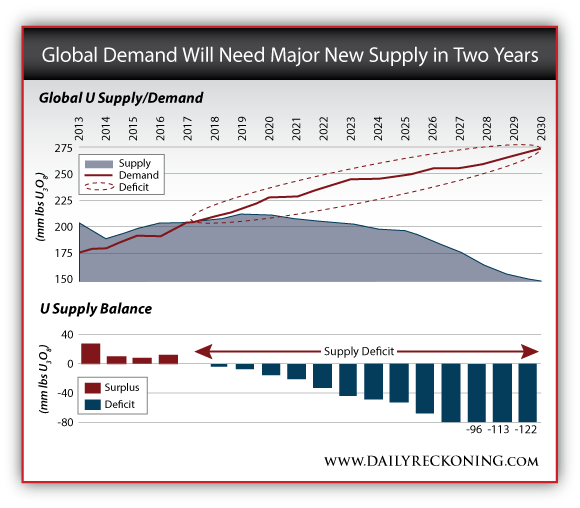 As you can see from the chart, current supplies of uranium are destined to go into deficit, as against demand, by 2017. That's a mere two years from now, which is essentially nothing in the time span of exploration, development, permitting and production — especially for anything nuclear.
Indeed, we've recently seen movement in the "spot price" of yellowcake. Prices moved from the $28 range, per pound, to over $35 — a 25% move in a matter of months. Meanwhile, in the much larger "contract" space (outside the daily-reported spot pricing regime), several producers report higher long-term prices for yellowcake.
What does this mean for uranium producers? Well, it's always dangerous to "call a bottom," so to speak, but I believe we've seen it for uranium. Looking forward, I foresee a recovery in uranium pricing and share prices for producers — although it's hard to predict the pace. Some things simply happen in their own way.
As for investments, consider Cameco (CCJ: NYSE), for example. Shares trade in the $16.50 range, just off a 52-week low, and far below five-year numbers. Note, however, that Cameco earnings more than support the dividend, which is a not-bad 2.1% just now. It's worth buying Cameco shares at these levels, in anticipation of the market perception catching up to reality in the industrial space.
Or look at Uranium Energy Corp (UEC: NYSE). Shares trade just over $1.00, slightly more than the 52-week low and far off of past highs. In the past few years, UEC was the only truly new producer to hit the market, with its in situ recovery (ISR) system in the "roll front" deposits of central and eastern Texas. Right now, UEC shows nominal losses, but the fact is that management has determined not to sell perfectly good uranium yellowcake at distress prices. Looking ahead, those prices will improve and benefit UEC.
In uranium, as with miners of many elements across many sectors, share prices have been beaten down, with tough losses to many an investor. It's been extremely frustrating, to be sure, yet the pain in the mining space has also served to shake out many a weak hand — certainly amongst the surviving "junior" firms.
Out in the small cap side of the mining space — the junior explorers and developers, many of whom were at the Gold Conference last week — survivors are hanging on by their fingernails. But do you know what? That's actually a very good thing, if you have a long-term horizon.
"Globally, the installed nuclear base is large, very significant and growing…"
That is, these are guys who know how to pinch pennies. There's no fat on any bones, so to speak. The groups that still stand have money, can raise money, have assets, have released strong exploration or development news, have solid management and technical teams, have a strong and patient business plan, have tight share structure, and/or patient money backing them, and several other in-the-weeds strong points.
All in all, there's hope across the hard asset space, but we're seeing good things take root in the uranium side, earlier than others. Yes, I know…. share prices have been beaten down and are low. Yet, as I discussed above, now is a good time to add uranium to your positions, to bulk up on previous purchases, and to watch the space with a keener eye for more promising developments. Things are getting better, it appears.
Best wishes…
Byron W. King
for The Daily Reckoning
Ed. Note: Ever wonder how you can make a lot of money from oil without owning a well? Or whether or not you should buy gold and silver? Or whether fracking is just a "flash in the pan" idea? Get insight, insider scoops and actionable investment tips twice a week with Daily Resource Hunter? Just click here for a FREE subscription!