3 Utilities That Can Help You Survive the Energy Sell Off
"One of the easiest moves you can make [to survive this energy sell off] is to buy utilities," says Greg Guenthner, my colleague and editor of The Rude Awakening.
Today we'll cover this sidestep to safety in a little more detail — and give you a handful of names that are heading higher as I type. It's today's energy safety trade and it may provide you secure passage in today's rocky oil market.
Indeed, it's certainly been a rude awakening for crude traders over the past four months. A CRUDE AWAKENING, if you will.
I'll spare you the rest of the commentary on today's oil bloodshed, prices for December delivery broke below $80 this month. The market looks horrible. The dust has yet to settle. And energy producers are under the most pressure we've seen since 2008.
Getting back to Guenthner's comment above, there is an easy way to side step this carnage…
Take a look at the Utilities Select Sector SPDR (NYSE:XLU):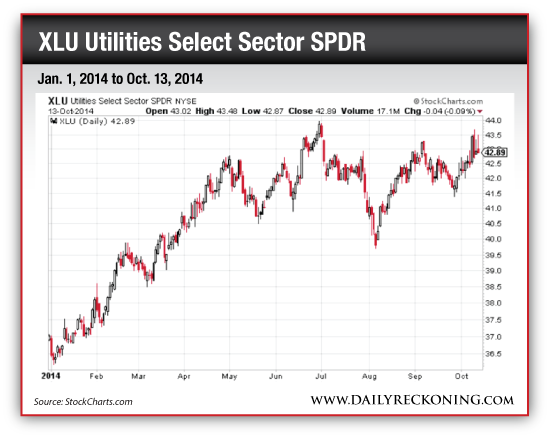 This ETF holds utilities, lots of 'em. And as you can see to the right side of the chart, even with oil prices falling since August, the utility sector is gaining steam. It's the energy safety trade.
"It's been a solid performer since the market started acting up over the summer" says Guenthner, "rising more than 4% while the S&P has dropped about the same amount."
"Owning this utility ETF is a simple way to insulate your portfolio from some of the market damage we're witnessing this week," he adds. "If traders want to flee their high-growth names and buy safe stocks, we can play the same game."
I agree with the sentiment. XLU is a great, diversified way to grab the upside of the utilities sector.
But let's dig a little deeper. I want to give you a quick look under the hood of the Utility ETF listed above — after all the ETF is nothing more than a holder of the biggest and best utility stocks. Naturally, there are plenty of stocks for us to cherry-pick.
The fund's largest holding is a big, safe name in the utility business, Duke Energy (NYSE:DUK).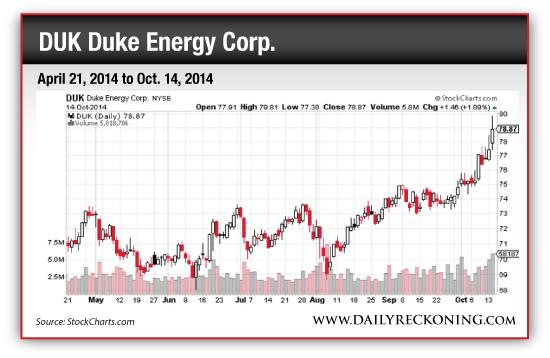 The stock is 13% above its August lows. And as you can see from the chart above, shares have been rallying in the face of a huge pullback in oil prices.
Of note, Duke Energy pays a steady 4% dividend. The next ex-dividend date is set for mid-November, and should be about an 80 cent payout, for a sub-$80 stock. If you're looking for a safe respite from oil's nasty pullback, this is your huckleberry.
Continuing our cherry-pick, the next good looking chart in the utilities sector comes from Consolidated Edison Intl (NYSE:ED).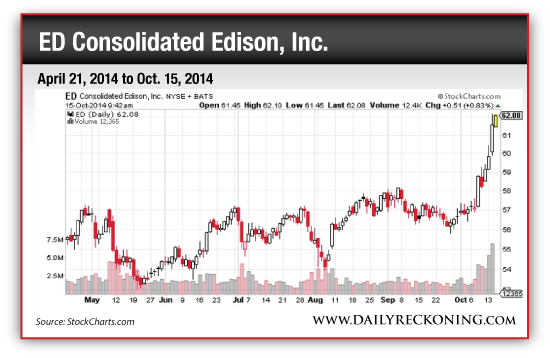 With a flight to safety under way, Con Ed is heading higher — up nearly 15% since August lows.
Similar to Duke Energy, this company pays a 4% dividend with one more quarterly payout on the way — this one due in November.
After a slight hiccup in August, both Duke and Con Ed are off to the races. And although these tickers and some other utilities have seen a nice jump lately, the run-up for 2014 may be just getting under way.
With pressure continuing to weigh on the oil market and U.S. oil producers, now's the time to make sure your portfolio has some safe dividend exposure. Utilities are the clear winner, there.
Keep your boots muddy,
Matt Insley
for The Daily Reckoning
P.S. For even more actionable ways to profit from the resource and energy markets, be sure to check out my Daily Resource Hunter. Signing up is completely FREE and once inside you'll get regular updates on exactly how to navigate this sector… and even how to discover huge profit opportunities you won't find anywhere else. Click here now to sign up for FREE.