The Massive Energy Deposit that No One Can Get to… Yet
Doubtless, you've followed news about the ongoing battle in Gaza, between Israeli forces and Hamas. Earlier this summer, Hamas shot rockets at Israel; in turn, Israelis bombed the tar out of targets in Gaza, and then sent in troops. You've also probably seen reports of Hamas "invasion tunnels" dug — by hand! — across the Gaza border, into Israel. It's a long-term, deep-seated, vicious conflict.
Rockets, tunnels and incurable hostility between Israelis and Palestinians; that's what the fight is all about, right? Yes, but… today I'll address something else behind the Gaza situation. The source of the issue lies under the surface, but it's not buried caches of rockets, or more of those invasion tunnels…
In fact, there's immense hydrocarbon potential in and around Israel, including Gaza. Both onshore and offshore, drilling has confirmed vast, proven reserves of natural gas. There's potential oil, too, based on early-stage drilling, geochemistry and geophysics. These gas and oil deposits are part of the Levant Basin, which is geologically related to other oil basins that spread across the Middle East.
Here's a map of the Levant Basin, courtesy of the U.S. Energy Department, showing trends, based on known oil and gas fields.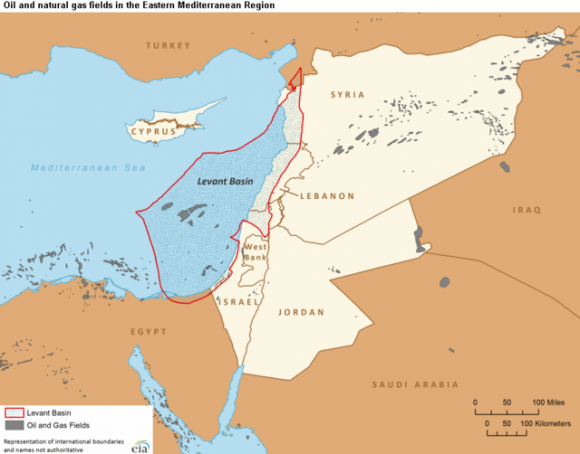 As you can see, hydrocarbon deposits extend from onshore, in the north within Syria, towards the southwest. After crossing the eastern Mediterranean Sea, hydrocarbon trends reappear north of Egypt and extend far into that ancient land. As the map indicates, there are several energy discoveries offshore Israel; with many more likely to come.
Hydrocarbon deposits include one of the largest gas discoveries in the world, in the past 25 years — and it's the largest gas discovery in the Med, ever. It's called Leviathan, located about 80 miles offshore Israel in 4,900 feet of water. The discovery well was drilled by Noble Energy in 2010. Currently, Noble and Israel eagerly await arrival of a brand new drilling and production vessel, being constructed in Korea. It's purpose-built to develop the Leviathan field.
Closer to the shoreline of Israel, and also offshore Gaza, geologists have identified other promising gas and (potentially) oil deposits. In fact, Palestinian politicians have worked with Western and Russian oil companies, to come to terms and deals to develop energy offshore Gaza. That's all on hold now, during the current fighting.
What does the future hold for energy offshore Gaza, and generally offshore Israel? More and more development, if trends continue. The gas and oil resource is certainly there, with astonishing discoveries to back up claims. We're looking at large resources, near markets, developable with current levels of technology, for the most part.
But what about the politics? I won't go so far as to say that the Israel-Palestine conflict is "all about oil;" that's a simplistic view, and Israel-Palestine is much more than that, to be sure. Still, it's fair to say that recently discovered, massive offshore energy resources add stupendous monetary — and strategic — value to territorial claims by both sides.
Meanwhile, offshore energy complicates Israeli-Palestinian diplomacy, now and into the future. There's that much more over which to argue and fight. Plus, for all the energy value awaiting the drill bit, exploration and development operations in the region are high-risk to potential players.
Nothing comes easy, not even world-class hydrocarbon deposits in one of the busiest parts of the world. You can be sure, though, that I'm following this offshore energy play. When I see the right kind of investment opportunity over there, I'll let you know.
Best wishes,
Byron King
for The Daily Reckoning
Ed. Note: In the meantime, there are plenty of great energy investments right here in the US. In fact, in every issue of Daily Resource Hunter, readers have several chances to receive some of the best investment advice from a variety off world-class investment gurus – complete with real, actionable stock picks. If you'd like to learn more about this – and other great ways to make a ton of money – sign up for the FREE Daily Resource Hunter, right here.