Huge Gains from a Forgotten Resource
Fracking for oil has done more than just change America's energy situation… it's changed the entire investment landscape, too.
Following the fracking money has become a very profitable pastime. I've done that in these very pages, finding angles to the fracking business that continue to pay us very well.
But there are plenty of side roads to the fracking business left to explore, promising even more payouts if you keep your eyes open. In fact, I've uncovered an industry that's quietly benefiting from the fracking boom. It's a part of the market where most investors fear to tread, which is why you can pick up shares for a relatively low price. Even better, you'll collect an 8.67% dividend to reward your bravery.
The story starts in the natural gas markets… but I think you'll be surprised where it ends up…
Fracking the Bakken Shale of North Dakota has given America's petroleum production a big boost. But as I've explained before, it's also producing a lot of natural gas. The oil has found a ready market; the natural gas — not so much. While crude oil prices have soared 171% over the past decade, the overabundance of natural gas has caused its price to fall by 25% in the same time.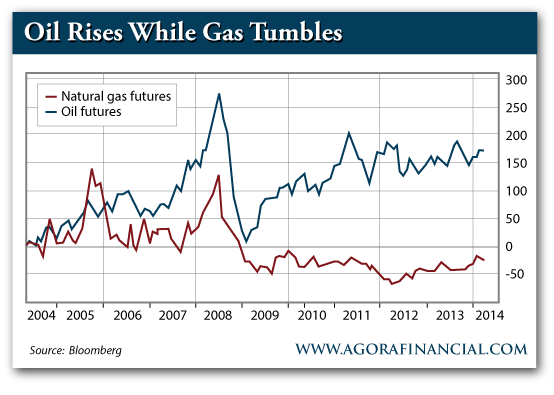 In fact, with prices so low, petrol producers find it more economical to simply burn the natural gas as a waste product. This process, known as flaring, has become so widespread that fracking operations are visible from space at night.
But while the natural gas glut has been bad for prices, it's been great for a collection of companies that specialize in transporting and processing the gas. We're also benefiting from pipeline companies that continue to see higher revenues and pay us nicely from those revenues.
And we've been receiving checks from companies that are working to alleviate the gas glut. For instance, one great company is cashing in on the U.S. government's decision to allow more natural gas exports, since the company owns the only approved and operating facility for exporting liquefied natural gas (LNG). On the transport side, we have other kinds of plays, such as companies that own ships specifically designed to haul to ports in Europe and Asia.
The point is the gas glut hasn't been bad for the handful of companies that have figured out how to turn the market to their advantage.
And that's true for another industry that's benefiting from the glut of natural gas…
Believe it or not, I'm talking about coal.
Despite all of the bad press that coal gets, it's still the No. 1 fuel for power in the United States.
According to the U.S. Energy Information Administration (EIA), coal plants fill nearly 40% of all electricity demand, while natural gas is still only 30% and nuclear is 19%. Hydropower satisfies just 7% of demand, and renewable energy makes up just 5% of the total. The final sliver includes petroleum and other gasses.
And the trend continues worldwide, with coal making up 40% of all energy fuels across the globe. This year alone, some 7.6 billion tons will be burned to keep the lights on.
But the world is moving away from coal, right? Not nearly as quickly as you might think. Right now there are over 1,200 new coal-burning plants under construction in 59 nations around the world. Even with all of the attention on natural gas and renewable energy, the EIA expects coal demand to increase by at least 50% over the next few decades.
And that's just one side of the coal market. There's also metallurgical coal, a necessary and currently irreplaceable raw material needed to create steel and other metal products. More than 1 billion tons are being used for metal production, and that number is expected to rise, too.
Unfortunately for coal producers, their primary product has an image problem. It's a dirty fuel and a frequent scapegoat for global warming fears. Mining it is costly, dangerous and heavily regulated.
Then there's the gas glut. The fuel is so cheap and considered so much more environmentally friendly that a lot more utilities and power-intensive manufacturing are moving from coal to gas. Domestic coal prices have fallen to match.
It's one of the reasons why coal mining companies like Arch and Peabody are struggling — and paying dismal dividends in the process.
However, just like we've found opportunities with the abundance of natural gas, there are profit opportunities to be found in lower coal prices. As I mentioned, coal is still in high demand around the globe. And with domestic demand slowing down, some companies are starting to find eager markets overseas.
The difference is that it's a lot easier to ship coal than LNG. It's not subject to strict approval and licensing by the U.S. government. More and more countries are eager to get their hands on American coal, with domestic coal contract prices on the rise. And U.S. companies are happy to oblige, reopening or even expanding their port facilities.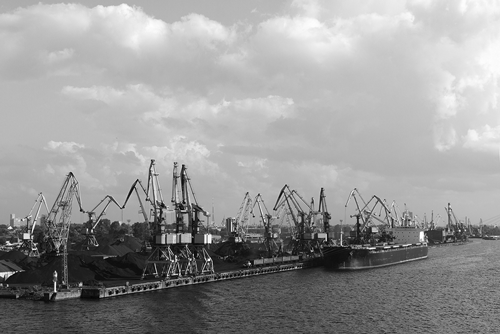 Coal exports are up nearly 300% in just the last five years alone… and are set to expand in the coming years, according to U.S. government estimates. Keep an eye on this space in the months and years ahead.
Regards,
Neil George
for The Daily Reckoning
P.S. The trick to profiting from coal, then, is to find a company that has a hand in the coal business without getting its hands dirty, so to speak. Sign up for the FREE Daily Resource Hunter email edition for regular updates on this story as it progresses, including several chances to take advantage of real, actionable profit plays in the resource and energy sectors. You could make a bundle as this sector continues to go unnoticed by the general investing public.
Article posted on Daily Resource Hunter