One Match that Reliably Sparks a Rising Gold Price
Gold seems to be sparking more attention these days, as investors have seen the precious metal steadily rise from its December low of around $1,200, to a new high of $1,350 just three months later.
What's driving gold?
The media has been focusing on the conflict in Ukraine and Russia as the main driver for gold, but I think an equally important driver relates to real interest rates…
For gold, the real fuel lies in negative-to-low real rates of return. Historically, the gold price rises when the inflationary rate (CPI) is greater than the current interest rate. Similarly, when real interest rates go above the positive 2-percent mark, you can expect the gold price to drop.
Investors can watch out for two factors. See if the embers still spark for gold. Take a look at what happened over the past year with real interest rates and gold.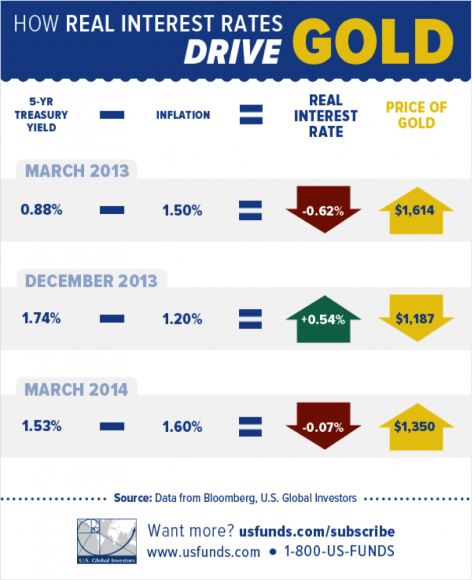 A year ago in March 2013, the five-year Treasury yield was offering investors 0.88 percent, while inflation was 1.5 percent. This equaled a real rate of return of -0.62 percent, so investors were losing money. That month we saw gold reach as high as $1,614.
The five-year Treasury yield rose to 1.74 percent in December of that year, as inflation lowered to 1.20 percent, returning a positive rate of 0.54 percent. What happened to gold? The price dropped to a staggering $1,187.
Today inflation has gone up 40 basis points to 1.60 percent while the five-year Treasury yield is at 1.53 percent. A negative real rate of return has resurfaced. Meanwhile, gold rose to $1,350.
Inflation has been off the radar for most people in the U.S., but Macquarie Research made an interesting observation as wage growth experienced the largest monthly increase in more than three years. Going back more than 15 years, you can see the six-month annualized change of 3.3 percent is "the highest pace of wage growth in over five years," says Macquarie.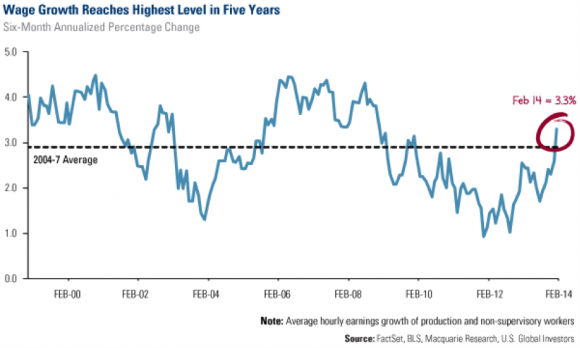 Usually, wage growth leads to an increase in the cost of goods, which translates to higher inflation.
And, with the Federal Reserve expected to keep rates low for a period of time to allow the economy to continue growing, it looks like real interest rates will remain low-to-negative, which should keep investors hot for gold.
Regards,
Frank Holmes
for The Daily Reckoning
Ed. Note: No matter what happens in the gold market, readers of the Daily Resource Hunter have unfettered access to the world's best commentary on precious metals investments. They know, better than anyone, just how to profit from the yellow metal whether the price goes up, down or sideways. Not only that, they're also given regular opportunities to discover real actionable stock picks that are tailor-made to the resource and energy sector. And it's all completely FREE. So don't wait. Sign up for the Daily Resource Hunter, right here.

Article posted on Daily Resource Hunter