Market Ready to Meet Chinese Gold Demands
China's appetite for physical gold remains insatiable.
According to the China Gold Association, 2013 consumption rose by 41% year over year, to a record 1,176 tons. That's impressive. Even more impressive is another indicator of demand…
"Another way to measure the real total demand for gold in China is the amount of gold being withdrawn from the vaults of the Shanghai Gold Exchange (SGE)," writes CLSA strategist Chris Wood in a recent note. "On this point, gold withdrawals from the SGE vaults rose by 93%, to 2,197 tons, in 2013, according to the exchange [see the figure below]. It should be noted that imported and mined gold are required to be sold first through the SGE."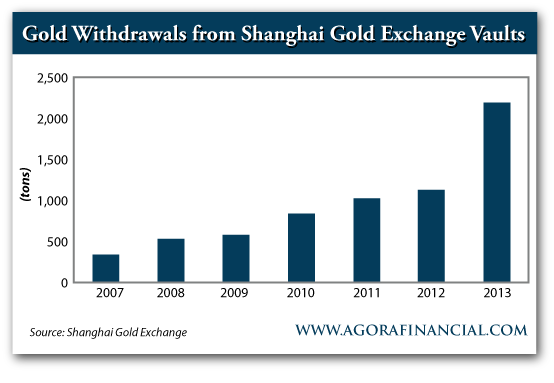 It's a fact that in a secondary market (like stocks), for every buyer of an asset, there has to be a seller. That's why you should ignore the market cheerleaders' comments about "cash on the sidelines" or money "going into or out of" an asset class. Such comments assume there's just one side in a two-way market. The urgency of the investor to buy or sell relative to the urgency of the other party determines price.
So what party sold physical gold so urgently in 2013 that it overwhelmed Chinese demand, pushing the price lower? Our guess is the liquidation from gold ETFs in the U.S.
The decline in GLD exceeded the decline in gold futures in several instances last year. This in turn led to shrinkage of GLD shares outstanding and redemption of physical gold held in by the custodian. The custodian sold physical (and shrank the GLD share count) to prevent GLD from diverting too far from the futures price.
Exacerbated by high-frequency traders, demand for GLD changes at light speed — much faster than physical gold demand in China. This helps explain why GLD had an outsized negative influence on the gold price in 2013.
In 2014, however, the liquidation of physical gold from ETFs has slowed. Wood concludes:
"Amidst all these positives, the one area where demand for gold collapsed was ETFs… Still, the action in ETFs so far in 2014 has been somewhat more encouraging, since gold holdings by ETFs have declined by only 22 tons so far in 2014, compared with a decline of 869 tons in 2013, according to Bloomberg." See the following figure: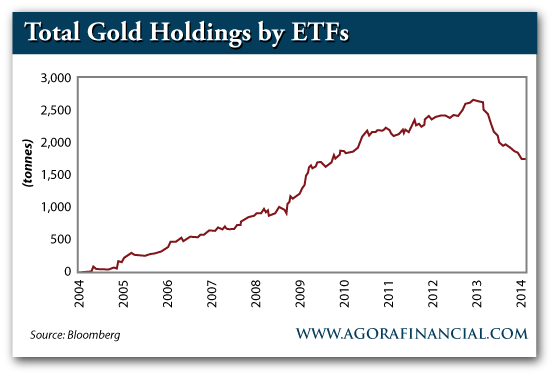 What if the physical gold holdings of ETFs rise in 2014? In February, the GLD ETF saw inflows of 7.3 tons of gold. Perhaps it's a start of a trend, which wouldn't be surprising. If so, price would have to rise dramatically to coax more physical supply out of sellers' hands. And China is unlikely to be a source of supply.
A 2014 rally in gold — if the gold ETF factor turns positive — could wind up being as dramatic as the 2013 decline. That means much more upside for gold mining stocks…
A few weeks ago, I attended a gold investing panel at the Austrian-themed Global Financial Summit. Accomplished mining stock investor Adrian Day discussed the huge cost inflation in the mining industry, which reminded me of two factors that should turn timings around for the better:
First, the high, rising capital costs of the past decade should reverse. Gold mining executives pursued growth aggressively during the 2001-2011 bull market because the market awarded the fastest-growing miners the highest valuations. Since executives crave high valuations for their stocks, most piled into high-cost, low-return acquisition-and-development projects.
Here is where accounting comes into the equation: The faster a company grows through acquisition and development, the larger its depreciation and amortization charges will be. In other words, fast growth at a mining company creates severe cost pressure in the short term.
Now, with development slowing, the charges and costs running through income statements should slow, too. The market may be surprised at how rapidly depreciation charges fall at miners that slammed the brakes on development two years ago. Lower charges and higher profit margins will help offset any disappointment with production growth. The price of gold will be a much more powerful factor than production in determining future earnings anyway.
Secondly, the high and rising operating costs of the past decade should reverse. Gold miners compete with base metal miners for equipment, supplies and labor. A simultaneous boom in base metal and gold mining activity during the 2001-2011 bull market meant that demand stretched the mining supply chain's resources. Prices for mining inputs rose rapidly to ration supply.
Thanks to the slowdown in China, we know a whole slew of large base metal miners are slashing mine development plans. Over time, this will relieve strain on the supply chain. Prices for equipment, supplies, and labor should stop rising, and may even fall.
We saw evidence of falling costs in the earnings reports of Agnico Eagle (AEM) and Pan American Silver (PAAS), for example. The market still can't imagine gold miners' costs surprising on the downside, but I think it's a likely development. And it's positive for long-suffering owners of mining stocks.
Best regards,
Dan Amoss, CFA
for The Daily Reckoning
Ed. Note: The gold mining sector has been beaten down in recent years. Which makes Dan's relatively rosy outlook for this sector all the more surprising. But he's got the evidence to back up his claims. To ensure you always get the most up-to-date info on all the resource and energy stories in the market, sign up for the FREE Daily Resource Hunter right here.
Article posted on Daily Resource Hunter