Surprise! A Profitable, Low-Risk Gold Company
Gold is wonderful in many ways, but gold miners are another story. They are not durable nor are they particularly rare. "Solidity" and "soundness" are about the last words anyone would apply to a business engaged in the mining of gold.
Miners like to bury perfectly good cash in the ground. They tend to issue lots of shares to stay afloat and struggle to make a decent return on what they invest. If you'll allow me a bit of slang, they suck. (Except when the stock prices go up — then nobody cares about this stuff.) Yet I found a seeming exception. A business that is self-funding and non-dilutive. (No issuing shares to pay the bills!) A self-described "industrialized-type gold company with a low-risk business model." [Italics added] Say what? Low-risk? Gold company?
It's true. Now, it cheats a little. It doesn't do much mining itself. Instead, it processes the ore for other miners in the region. Let's take a look.
Dynacor Gold (DNG:tsx) proudly claims its ore-processing division, in Peru, "generates steady cash flow and profits while reducing risk." If a picture is worth a thousand words, then it may be best to show you the ore processing steps graphically. Take a look at this chart: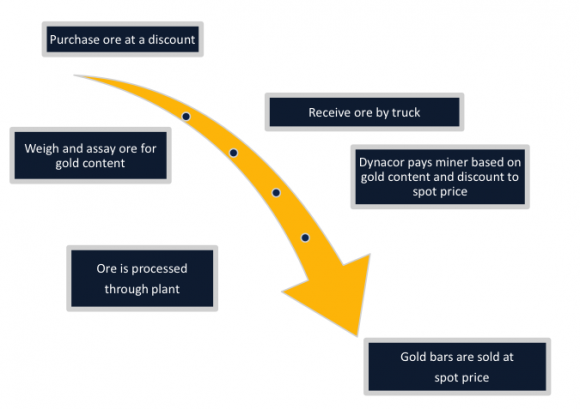 The processing strategy is at the core of Dynacor's engine. It has led to massive outperformance of Dynacor's stock price over its junior gold mining peers. Over the last five years, the stock is up 400%, while the GDXJ — a decent proxy for junior gold stocks — has been more than cut in half. Really, it's unbelievable.
Take a look below to get a look at the last two years, which have been extraordinarily difficult for gold miners. Dynacor's shares have more than doubled.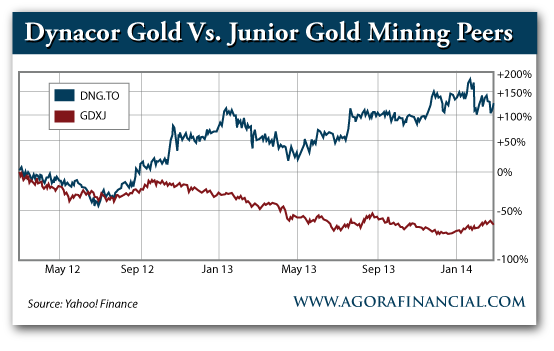 As I say, at the heart of Dynacor is a decent business processing ore. It leads to steadily rising cash flow per share, as the nearby chart shows. The trailing four quarters cash flow is 29 cents per share. The stock is C$1.66 per share as I write. So you are paying less than 6 times cash flow to own it. And the company has credible plans to expand its ore-processing capacity. It's a growth story as well as a value play.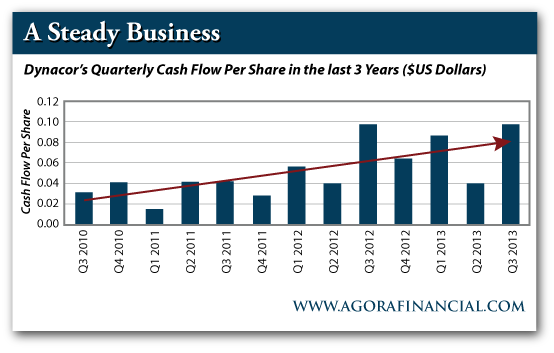 So Dynacor has a good gold business, a rare thing, but it can't resist the itch to bury some otherwise perfectly good cash underground.
Dynacor has a drilling campaign underway at a copper and gold property, Tumipampa.
Management dedicates many slides in a recent presentation on this high-grade gold property. It seems to be in a good location in Peru, surrounded by six senior miners. (Dynacor has been in Peru for 20 years, and I don't regard this as a risk that would keep me away.) The drill results look great (as they often do), and production should start in 2016.
There is nothing special about this project in my mind. There are dozens of stories of great gold projects. Very few ever really pan out as great investments. Most of the time, there are cost overruns and delays and disappointments. That doesn't prevent the geologist crowd from getting excited over drill core samples.
The best I can say for Tumipampa is that at least it is self-funding. Dynacor doesn't have to sell stock or borrow money to do what they're doing. Nonetheless, I wish they had stuck to the ore processing and paid a dividend with the excess cash. The pursuit of Tumipampa seems a needless risk and turns me off the stock.
However, you may think differently about gold exploration risks. In a different light, one might look at Tumipampa as potential big upside if it becomes a decent mine in 2016. Dynacor has just 38.6 million shares outstanding. And it's not a serial issuer of stock. Therefore, any success is likely to have a large effect on the share price.
Besides all that, give management credit for the track record so far. Dynacor is an interesting story and a unique gold stock. It's actually been a very good investment for a long time.
Better, in fact, than the much admired gold metal itself.
Sincerely,
Chris Mayer
for The Daily Reckoning
P.S. Bottom line: Mining is tough; so discovering a good company like Dynacor in a relatively bad market sector makes the reward that much sweeter. And there are plenty of great opportunities just like this, if you know where to look. To get better insight on a wealth of great investment opportunities — specifically in the resource and energy spaces — sign up for the FREE Daily Resource Hunter, right here. Each issue is packed full of insightful commentary on these markets, and gives readers at least 3 chances to gain access to life-changing investment opportunities. Don't wait. Sign up for FREE, right here.
Article posted on Daily Resource Hunter