No Doom and Gloom in the Shale Boom
While the market is seemingly filled with doom and gloom, there's a huge opportunity for a sustained rally in a handful of our favorite companies.
And while other folks grasp at straws and develop bear theories because of a few down days, I urge you to look at a more important trend. Well, two actually…
The chart below shows an important trend I want to share with you. It underpins today's thesis. It comes from my colleague, Jonas Elmerraji.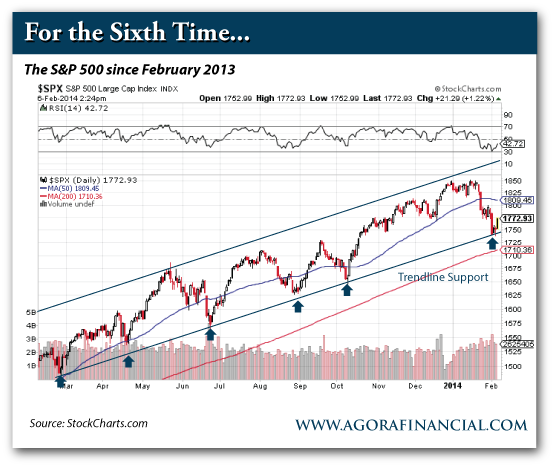 As you can see from the S&P 500 chart above, the broad market is still trending higher. This has been a phenomenon that we've seen since 2009 — and it's still very much valid.
In fact, I'll go a step further. Anyone that's fought this trend over the past 5 years has lost. Bears beware! The bull market in the U.S. is only set to grow.
And if you're a long-time reader you won't be surprised to find out why I think we're set to boom.
You see, not only are manufacturing jobs and other industries coming back to America, in a process called re-shoring, but a similar trend is happening with investors! This is something we've been covering for years, but when you do the math, study the risk reward and crunch the numbers there's no better opportunity than right here in our own back yard.
America's economy is on the upswing and it's in large part due to the second trend I want to share with you…
This is a story you've heard for years, from me. The U.S. is enjoying a massive renaissance in the energy sector. Oil and gas are flowing from the unlikeliest of places and it's really starting to have a positive impact on our economy. Jobs are coming back, energy prices are stable, our reliance on the Middle East is dropping and our trade balance is heading in the right direction. No matter which way you do the math this shale boom is making a huge difference. And it's leading to some legendary profit opportunities.
In fact, every time I wipe my little morning eyes and get ready to pen another article about the shale boom, or the companies that are set to enjoy years of growth, I hesitate. I think to myself, "man, am I really going to write another article about this?" But you know what? I can't — and won't — fight the HUGE opportunity that America's shale boom provides.
Just like those that tried to fight America's bull market over the past 5 years, anyone that's fought the share price of well-run shale oil players has lost. Today in particular we've got as solid an opportunity as I've seen in the shale boom, that's because a lot of the players we follow are on sale!
Since mid-October shale producers have taken a breather. Four of my favorite names in the field, Oasis Petroleum (OAS), EOG Resources (EOG), Pioneer Natural Resources (PXD) and Marathon Oil (MRO) are down 29%, 10%, 6% and 20% respectively. These shares are on sale!
As I said above I'm going to keep this article short, if you'd like to read why I like any of the companies above you can get my full take right here.
We're seeing the convergence of two mega-trends in today's market. After a short breather, both the S&P 500 and many well-run shale plays are set to continue their longer-term uptrend.
Now's the time to buy into a spring and summer rally. Forget the doom and gloom, keep your eyes on the shale boom!
Keep your boots muddy,
Matt Insley
for The Daily Reckoning
P.S. No matter what the broad markets are doing, there will always be opportunities for those savvy investors willing to dig a little deeper. That's why I write my Daily Resource Hunter email edition – to give readers the kind of boots on ground investment info that shows you how to discover profits in any kind of market – especially in the resource and energy spaces. If you're not a reader, not to worry… You can sign up for FREE, right here.
Original article posted on Daily Resource Hunter