The Hidden Energy Trend for the Next 20 Years
Hidden on page 44 of BP's World Energy Outlook was a doozy!
You see, each year the oil giant (BP) updates its long-term prediction for world energy markets. The latest update aired earlier this week.
The report runs the gamut — from oil & gas to renewables, to nuclear or coal — giving a forecast through the year 2035.
Today, I've done the heavy lifting for you. Instead of looking at the full 96-page document yourself, I've narrowed down what looks to be one of the top investment trends.
And yep, it's found on page 44…
The report has a lot of meat to it — and sure the U.S. shale boom gets a lot of time in the limelight. But looking past the idea of continued U.S. shale (oil and gas) production, something we've covered here many times, there's another trend that could be flying under Wall Street's radar.
Take a look at this: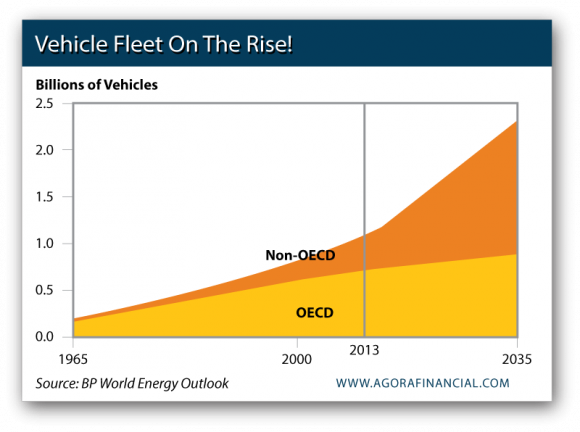 Vehicle use (noted in the size of the world's vehicle fleet) is in for a massive expansion come 2035. As you can see, the growth in vehicle use is spurred by non-OECD or "emerging market" users (think Asia.) As emerging markets continue to grow this expansion will be an unstoppable trend.
Unstoppable, eh? Those are our favorite types of investments!
At first, as a loyal resource hunter, you'd expect to see a huge spike in the demand for oil – but as you'll see, that's NOT exactly the case!
Sure, oil use — and transport fuel use in general – will trend higher over the next 20 years. But like we're starting to see worldwide, so will energy efficiencies. Add it all up and instead of oil demand more than doubling over the next two decades it'll grow by a mere 25-30%.
You can chalk up that lower oil demand mainly to "improved vehicle efficiency" — a vastly investable trend over the next two decades.
Energy efficiency is a huge trend you'll want to follow. In that sense, the company that can help you save a barrel of oil is just as valuable as the company that can pump one out of the ground!
The company I'd like to introduce you to is Parker-Hannifin Corp. (PH), a prime mover in the energy efficiency sector.
If you think:
We're set to see many more electric and hybrid vehicles…
Airplanes are going to be able to fly longer on less fuel…
There's a global trend towards using natural gas as a transport fuel…
Smart grid and renewables are a growth sector…
We'll see continued industrial efficiencies (Improved hydraulics, cooling systems for computer servers, etc…)
Then Parker-Hannifin Corp. (PH) is a company you should have on your radar. Parker is the "world's leading diversified manufacturer of motion and control technologies and systems, providing precision-engineered solutions for a wide variety of mobile, industrial and aerospace markets."
The company has systems and components in airplanes, trash trucks, natural gas fueling stations, offshore oil rigs, computer cooling systems, mining and farming vehicles and more. Add it all up and this is your one stop shop for adding efficiency to anything that moves! And yes, this fits perfectly with the larger trend that we see brewing on page 44 of BPs Energy Outlook.
But that's not the half of it! You see, over the past five years sales have been skyrocketing for the company. But along with sales of "total machine systems" the company also has expected future growth from "sub-systems" and components.
For example, when the company sells a wind-turbine system or energy storage system, it's creating a future stream of revenue for replacements and parts — a solid underpinning for future growth. And looking at Parker's sales and share price over the past few years, it's a recipe for success.
The company also pays a modest 1.4% dividend. Of note, the dividend has seen consistent growth, never dropping, since its inception in 1997.
The main word of caution here is that Parker-Hannifin shares are rarely cheap. For the past 12 months the company has rallied 43%. So finding a place to pick up shares at a discount may prove tricky.
Regardless, if you're looking to get into a big, safe company that provides "efficiencies" for the modern world, Parker-Hannifin is one to look at…
Keep your boots muddy,
Matt Insley
for The Daily Reckoning
P.S. Energy efficiency is big business these days – and the right plays can be immensely profitable. No one knows that better than my colleague Byron King – an energy and resource expert who treats his readers to a wealth of knowledge and potential profit opportunities. He's also a regular contributor to my free Daily Resource Hunter email edition, which provides readers with a full and accurate rundown of the world's resource and energy markets, every single trading day. If you're not getting it, you could be missing out on a lot of money making opportunities. Find out what all the fuss is about, for FREE, right here.