The First Bankable Energy Trend of 2014
At the risk of sounding crazy, I'd like to let you in on a little New Year's resolution.
In short, I want to "listen" to our favorite price charts a lot more this year.
You see, if you listen long enough the charts will talk to you. Whether it's gold, silver, oil or gas, when a price chart starts talking – especially for these big name commodities – you've got to listen (our investments depend on it!)
To start the year off, I pointed an ear to one of my favorite charts.
It wasn't long before it started to talk…
So far 2014 hasn't been good to crude oil.
The price of the commodity is down over 5% in the first 5 days of 2014.
Indeed, this may seem to fall in line with the fundamentals. That is, with more oil and gas production in the U.S. I expect prices to feel a little pressure. So far, though, that pressure hasn't been able to push prices below the $90 threshold.
Ah, but what's the chart saying?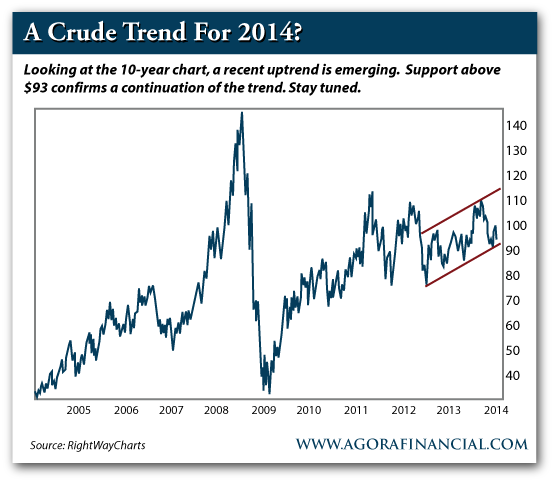 Even with the recent blip of a downturn, crude's long-term chart is pointing to a leg higher for the black goo. Looking at the chart above you'll see a defined uptrend/channel over the past 18 months.
Thus, if we listen to what this chart says, it may be wise to expect a leg higher for crude oil in the coming months.
The important thing to watch over the coming days is price action on the low end of that channel. If prices can stay above $93 or so, that uptrend will remain intact.
Without a breakthrough of that downside support, we'll continue to see oil trend higher. In 2014 this trend could be our friend!
At the same time this trend started to emerge – a few of our favorite U.S. oil plays went on sale!
Over the past couple of months Pioneer Natural Resources (PXD), Oasis Petroleum (OAS) and EOG Resources (EOG) felt a general downdraft in share price. Shares are down 13%, 15% and 7% respectively.
With stable-to-higher oil price potential for 2014, combined with a recent boost in natural gas prices (many oil shale plays also produce a lot of natural gas as a byproduct), it could be a good time to snatch a few shares of these proven producers.
Keep your boots muddy,
Matt Insley
for The Daily Reckoning
P.S. If oil prices can hold above $93, or so, in the near-term we could be looking at a continuation of oil's latest emerging uptrend. This could put an end to downside pressure and add some cash to the balance sheets of our favorite U.S. producers. To get updates on this ongoing story before anyone else, sign up for my FREE Daily Resource Hunter email edition. You'll get a daily rundown of the resource and energy markets as well as several chances to discover real, actionable investment plays. So don't wait. Sign up for FREE, right here. You're next issue is just a few hours away.
Original article posted on Daily Resource Hunter