Waking the Beast in the U.S. Northeast
[This article originally appeared in the Daily Resource Hunter on November 20, 2013]
There's a plague stretching across much of the Middle East…
In one form or another, natural gas production is falling short of expectations.
The latest example comes from Iran. "Sanctions have forced the country to curb natural gas projects such as expansion of pipelines and dashed hopes of exporting to Europe" the Wall Street Journal reports. Of note, "European Union sanctions in 2010 blocked Iran from receiving all technology used in exporting liquefied natural gas" the article concludes.
Marcellus production is higher than many countries' total gas production – including China, Saudi Arabia and Nigeria.
But it's not only Iran that's grasping at straws…
We're seeing a similar strife – albeit completely unrelated – happening in Egypt. The country's in-border use of natural gas is sky-rocketing, likely caused by state-run subsidies, while production is failing to keep up. This in-turn takes a toll on exports…
"Egypt's natural-gas shipments are set to drop by about half this year, undermining the military led-government's attempts to stabilize the largest economy in North Africa."
Add it all up and several key exporting countries in the Middle East are facing their fair share of energy worries. Turns out energy production and profits aren't easy to come by these days! (Shucks, just ask Iran's national gas company, which just declared bankruptcy this past weekend.)
But let's zoom out. Travel west. Then zoom back in on America's Northeast.
While energy woes are plaguing several Middle East nations, the U.S. is enjoying an increasing amount of abundant (and profitable) gas from an unexpected boom in the Northeast.
And, yeah, I'll have to admit I've been snoozing on the natural gas action happening in the region. With natural gas prices nestled under $4, there just wasn't much that excited me in the short-term.
But as it happens with every snooze-button soiree, the alarm finally goes off again!
Pennsylvania's Marcellus shale formation has been coined the "Beast in the East." And after checking out the latest production numbers, during a recent trip to Pittsburgh, I do believe the formation has earned its beastly moniker.
As I type the Marcellus shale formation is producing over 10 billion cubic feet per day (Bcfd.) For starters, that's 57% more production than this time last year.
Here are some round numbers for you to digest:
10 Years – The Marcellus is producing enough gas in one year to power the residential needs of the State of New York for 10 years.
14% — the Marcellus is currently producing over 14% of the total U.S. gas demand.
$15 Billion – current production of the raw commodity is worth nearly $15 billion a year.
170 days – some of the more prolific wells in the Marcellus can offset the cost of the well within 170 days (a little under six months.) That's just how much production is coming from the ground. And after the well is past breakeven, the rest is just gravy.
"More" – Marcellus production is higher than many countries' total gas production – including China, Saudi Arabia and Nigeria. Marcellus production is nearly two times the total gas production of countries like Egypt, Mexico or the UAE.
But here's the icing on the cake, or in this case some talons on the beast…
According to the latest version of the US Energy Information Administration's (EIA) Drilling Production Report, 10 Bcfd may be a low estimate!
Projecting out to December of 2013, the EIA forecasts total natural gas production to be closer to 13 Bcf per day! Add that 30% boost to the stats above and you'll see we're talking about a SERIOUS amount of natural gas – and profitability – coming out of Pennsylvania's Marcellus.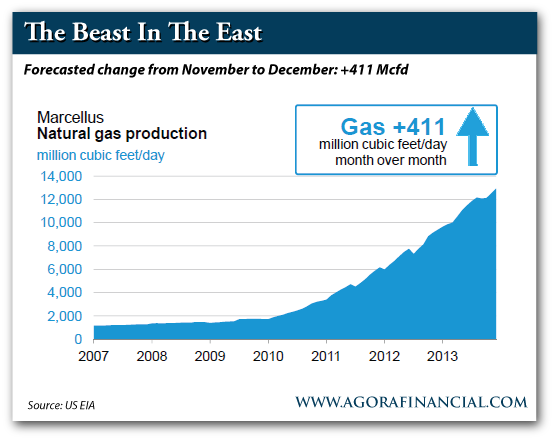 The beast in the east is rising!
Besides the solid uptrend that you can see on the chart above, from what I've heard on my recent trip to Pittsburgh, you can count on years of economic drilling and increases in production.
I'll stop back in with some more details, soon. But in some cases I've heard Marcellus wells in the sweetspots are able to breakeven at natural gas prices around 40 cents.
Interested yet?
More on that and some ways to play it…stay tuned!
Keep your boots muddy,
Matt Insley
for The Daily Reckoning
Ed. Note: As evidenced by this and other recent articles (which you can read here and here), Matt is seriously bullish on the U.S. nat gas market. If you want to learn as much as you possibly can about this incredible story as it develops, you're best bet is to read everything Matt has to say on the subject. Sign up for his FREE Daily Resource Hunter to stay ahead of the curve.
Original article posted on Daily Resource Hunter