Nat Gas Heats Up the U.S. Northeast
As cold temperatures blanket much of the U.S., natural gas prices are heating up.
But believe me, this isn't one of your local news fluff pieces about cold weather and sleigh rides, instead there's a surefire (long-term) way to turn a profit as temperatures drop and commodity prices rise.
Today we'll take a look at how seasonality does matter for natural gas investors – and how the added balance sheet bucks could turn into a longer-term profit opportunity for you and me…
A quick look at the nat gas thermometer and you'll see that prices are warming up…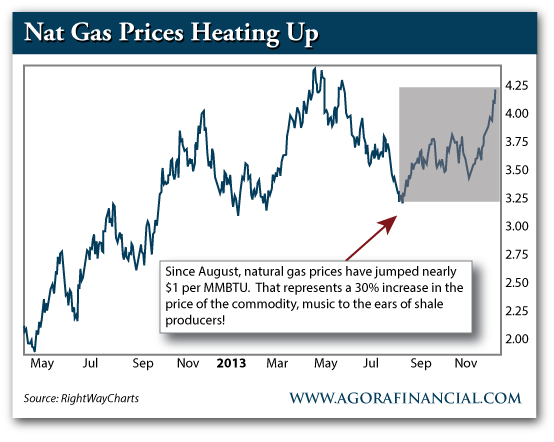 According to the U.S. Energy Information Administration nearly 50% of American households use natural gas as their primary heat source.
Over the past month, with furnaces kicking-on across the country, natural gas supply (in storage) has been falling. In fact, last week's inventory report was massively bullish with inventories falling well below their 5-year average – a strong sign considering winter hasn't officially started.
Naturally, with supplies heading lower and demand creeping up, prices are on the upswing. November lows around $3.60 have quickly turned into December highs at $4.25.
Connecting the dots you'll see that with natural gas, seasonality DOES matter. Furthermore, every day that passes with natural gas sitting above $4 – hitting a high above $4.25 yesterday – shale gas producers are getting an added bonus to their balance sheet.
And besides the obvious, and immediate, jump in spot prices, natural gas producers are able to utilize this pop in prices to hedge their future production as well. Add it all up and it's a win/win for shale producers that just a year and a half ago were seeing natural gas prices closer to $2.
Think of it this way. A huge natural gas producer like Range Resources produces over 950 million "cubic feet of gas equivalent" (cfe) per day. At $3.25 natural gas (with a quick conversion from cfe to mmbtu), the company would realize revenue of just over $3.1 million (M) per day. But with natural gas prices closer to $4.25, Range would realize revenue over $4.1M per day.
For a company that sees quarterly revenue around $400M, an extra $90M is a welcome holiday gift.
So yes, seasonality does matter. But, as we've discussed recently, that's not the only fundamental supporting natural gas prices.
In fact, there's another factor that you may not have seen!
Indeed, the serendipity of America's shale boom can't be understated. Over millions of years, oil and natural gas formed in various places under U.S. soil. But today's massive Marcellus deposit under Pennsylvania soil is a godsend for the Northeast.
Not only is the Marcellus being heralded as the world's second largest gas field, BUT it's also mere miles from enormous demand centers, like New York City.
However, due to lack of pipeline infrastructure, natural gas was bottlenecked from getting into Manhattan. That is, until now.
One of the main pipeline projects bringing Marcellus gas to New York City was recently commissioned by Spectra Energy. The pipeline supplies 800 million cubic feet of natural gas per day – according to a company rep, that's enough energy to heat two million homes. Recent census data shows some three million total households in NYC – that's a lot of added natural gas capacity and ensuing demand.
This according to Businessweek:
Consumers in the Northeast and New England typically pay some of the country's highest prices for natural gas, especially in the winter, when heating demand spikes. During a cold spell last January, the price of natural gas delivered to New York City hit a record high; it cost more than gas delivered across most of Asia, where prices are often triple what they are in the U.S.

A pipeline that opened on Nov. 1 has effectively doubled the amount of natural gas flowing into Manhattan and steadily pulled down the island's delivery price. In anticipation of the pipeline opening, traders on Oct. 31 drove down the price of gas delivered to New York
[Ah, don't you love it! New York State bans fracking but now the state's metropolis will benefit from the neighboring production from Pennsylvania. Oh the irony!]
And New York City won't be the only location to benefit from Pennsylvania's swelling production. Take a look at the EIA graphic below to see some of the new and planned pipeline projects to service America's Northeast… (note the Marcellus formation shaded in light brown.)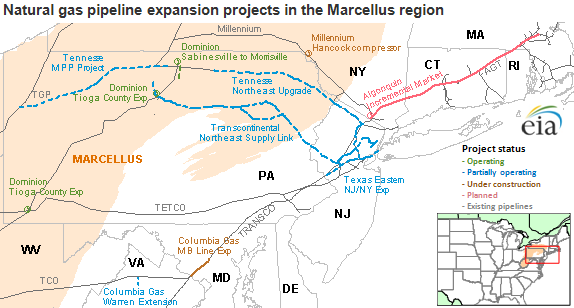 (Source: U.S. EIA)
As more of America's shale gas finds a market, expect prices to continue to receive support. Whether it's seasonality, residential use, power plant use, manufacturing use, potential exports or other, demand is ramping up for natural gas.
Sticking with our favorite natural gas plays in the Marcellus, you'll be happy to keep an eye on Cabot Oil & Gas (COG), Range Resources (RRC) and EQT Corp. (EQT.)
Stay tuned. Stay toasty.
Keep your boots muddy,
Matt Insley
for The Daily Reckoning
P.S. Along with natural gas prices, the price of oil has received a kick in the pants lately too. WTI prices are seeing 5-week highs and currently sit at $98 a barrel. The reason oil prices shot higher has a lot to do with the same story that we're seeing in natural gas. Some heating oil demand combined with a big pipeline announcement (this time in the form of the Keystone XL, from Cushing OK to Texas's southern coast.) Inventories at Cushing are down and prices are on the rise. Similar to natural gas, this uptrend in oil will give domestic oil producers better pricing for their oil. Stay tuned to my Daily Resource Hunter for regular updates on where this market is headed and how to take full advantage of it.
Original article posted on Daily Resource Hunter