"New Gold" Found In America
"In Fracking, Sand is the New Gold" a headline from the Wall Street Journal proclaims.
However, unless you own a sand mine yourself, the golden gains will be tough to grab.
Today we'll take a look at the best ways to play this essential piece of America's shale boom. As you'll see, there are plenty of safe ways to play America's "new gold"…
Wake up and smell the shale boom! Yesterday's Wall Street Journal landed on your editor's doorstep, and before the dog could get at it, I noticed a timely write-up on America's shale boom.
The article was about sand.
But regardless of being plain, white and boring, sand is an essential part of America's shale boom – a profitable one as you'll see!
Before we continue, it's important to note that the Journal's note on sand was a little off. "Blasting it down oil and natural gas wells to help crack rocks and allow fuel to flow out" – isn't exactly accurate. (Yet another reason there's so much misunderstanding about the fracking industry!)
To be clear, sand isn't used to "blast" anything, nor does it help "crack" rocks. I'm sure when most folks read that sentence they think of a sandblaster shooting its way through rock. But that's simply not the case.
Sand is a proppant (a word you won't find in the WSJ article, mind you!) That is, as a rock formation is pressurized and fractured during the fracking stages, sand is used to prop those fractures open. Think of propping a window open with a baseball, to allow air to flow. Indeed, if you simply pressurized and fracked a rock formation with no proppant, oil and gas wouldn't easily flow to the surface.
At any rate, sand is a vital piece of the shale industry. And if the media coverage is any indication (even National Geographic dubbed it a "Sand Rush"), this important proppant remains a profitable business from many aspects.
Two producers in particular are enjoying added sand demand, Hi-Crush Partners (HCLP) and U.S. Silica (SLCA.) For a look at each company's one-year gain take a look at the nearby chart.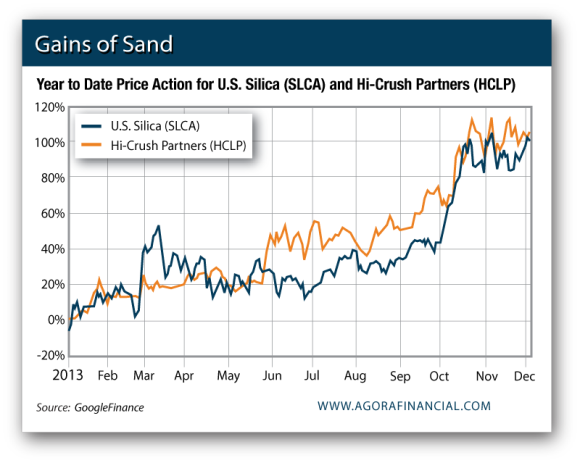 Keeping an eye on these commodity producers could provide you with a profitable path. But with the run-up we've seen in 2013 alone, the sand market is looking a little frothy.
While you keep an eye on the producers I suggest you also look to two alternative ways to play America's sand boom.
The first "alternative" way to play booming sand production is through the logistics. Indeed, no matter which sand mine/shale well combo you pick there's typically a middle man transporting the heavy grains to the wellhead – in many cases that's a rail company!
Remember, crude oil production has created resurgence in rail demand – the typical example here is North Dakota's production boom, with no existing infrastructure rail tankers were the transport mode of choice. In a similar way, the white sands of Wisconsin, what could be labeled as the fracking sand capital of the US, need to be transported to the shale wells in Texas, North Dakota and other shale hotspots.
Of note, according to a representative from U.S. Silica, it takes "25 railcars of sand" to frack one well. That number is underpinned by a report from Bloomberg that says it takes 35 railcars, or 3,500 tons of sand per well. So we're talking about a lot of rail capacity needed to ship this vital commodity.
A quick look at the rail maps for the major rail providers in the U.S. and you'll see that Union Pacific (UNP) is uniquely positioned to cash in from sand shipments in Wisconsin. Looking to the north, the same could be said for Canadian National (CNI) – the main artery of their rail system passes through Wisconsin. (Of course Warren Buffet's BNSF railroad will also play a major role, but alas, it's a private company.)
Looking ahead, the investment opportunity still remains with Union Pacific and Canadian National. These two railways in particular will enjoy years of added sand cargo from Wisconsin to major shale plays in Texas and North Dakota.
The second "alternative" way to play America's sand rush is hidden in the balance sheet…
You see, years ago, a few very well run oil and gas producers figured out sand would be in high demand. In that sense these savvy companies were worried about price run ups and well cost overruns. Knowing this they took the initiative to lock in the absolute lowest sand prices they could find.
How'd they do it?
The bought their own sand mines!
EOG Resources (EOG) and Pioneer Natural Resources (PXD) both saw the writing on the wall and decided to take their sand commodity costs in-house. Today that move is paying off big-time on their balance sheets.
According to Forbes, "Part of the reason EOG's wells in [the Eagle Ford] formation cost $1 million to $2 million less than other operators is because they own their own sand." Of course, it's important to note the wording. The article says "part of the reason", as sand won't cut $1-2 million in cost by itself. Of course, using 5,000 tons of sand (at $50 to $125/ton) companies could see hundreds of thousands in savings per well. So we're not talking small potatoes here, either.
"EOG has since invested more than $200 million in three sand mines and two processing plants in Wisconsin" the Forbes article continues. "It ships the sand via BNSF and other railroads to the Bakken and Texas."
Pioneer Natural Resources has also taken giant steps in the sand gathering game. In 2012 the company announced the acquisition of Carmeuse Industrial Sands. This deal put Pioneer ahead of the sand game in two regards:
First the company acquired over 20 million tons of white sand reserves in Wisconsin, along with potential production capacity of one million tons per year.
Second, Pioneer took ownership of a brown sand mine in West Texas which will be used in its operations in the Permian Basin.
Together EOG and Pioneer have been slashing costs and producing more oil and gas. That's an amazingly ancillary way to multiply you're your gains in the sand game!
Plus, here's the kicker…
I don't see this sand boom ending any time soon, either. With decades of drilling left for many of the well-run shale producers, sand will continue to be in high demand. Furthermore companies are testing the idea of using more sand per well. So far test results are positive.
EOG knows this well. According to Trevor Sloan, an analyst at ITG Investment Research, EOG is seeing higher production from wells with more sand.
Add it all up and there's a profitable trend emerging in America's "new gold."
Keep your boots muddy,
Matt Insley
for The Daily Reckoning
P.S. As the shale boom in the US continues, more and more of these outlier stories will present themselves. And I've made it my mission to discover as many of them as possible, before the general public gets wind of them. I'll be sharing more of my insights on this and other exciting investment ideas on the US energy boom in the coming weeks and months in my Daily Resource Hunter email edition. I invite you to join me for FREE, right here.
Original article posted on Daily Resource Hunter