2 Big Shots at a Bakken Oil Play
I had to double check my directions for my early morning boardroom meeting with Statoil's (STO) management – after all, Google Maps can't seem to keep up with North Dakota's boomtown, Williston.
Before we went out to kick some rocks, I heard from Senior Vice President Torstein Hole. Torstein oversees Statoil's development and production activities in North America and was able to show that the Bakken oil play is one of Statoil's top tier U.S. plays, along with production in the Marcellus and Eagle Ford.
Today we'll recap my visit with Statoil, along with another vital player in North Dakota's oil biz…
First, let's put this in perspective, Statoil is a Norwegian, semi-national, oil company. About two years ago they bought big, acquiring Brigham Exploration for full exposure to the Bakken — with over 375,000 acres. Torstein stationed in North Dakota gives direct credence to the global nature of this energy opportunity.
When asked about the longevity and impact of America's shale boom Torstein says we're "still in the early days in shale." That's especially true in North Dakota. As he put it, "the current production in the Bakken will be long lasting. 30-40 years of production."
Not to mention, the average breakeven price on these wells I'm told is around $50-60 a barrel. Compare that with today's oil prices and you can see that a ramp-up in production could pay off handsomely.
Indeed, the big picture that we've painted about America's shale boom is just getting underway. Torstein's comment was surefire vindication of the importance of the massive Bakken oil play.
After a short boardroom meeting, we hit the busy roads checking out fully active drilling and fracking operations – these sites are working 24/7, 365 days a year (even in the winter, sub-zero temperature and 50 mph wind.)
To get specific, the average Bakken well is around 20,000 ft. in total length. That's 10,000 ft. down and then 10,000 ft. horizontal.
As the drill pipe heads lower into the Bakken formation (10,000 ft. below the surface), the drill bit steers the pipe horizontally and then continues another 10,000ft. This puts a lot of pipe in the production zone and allows for maximum production in this Bakken oil play.
Once the horizontal leg of the well is drilled a "completion" team comes in and hydraulically fractures the well in stages. According to engineers I've talked to, they are utilizing anywhere from 30-40 fracturing stages – think of it as 30-40 production zones along the 10,000ft horizontal, each allowing oil to freely flow to the surface.
What does the Bakken formation consist of?
It's a "shale-y carbonite" I'm told. The carbonite is loaded with organic compounds (which is where you find your oil.)
But, for a better feel of what we're talking about, let's descend down 10,000 ft and look at it! Here's what the Bakken really looks like: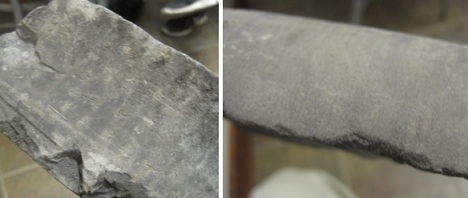 The core sample above has a similar feel to a slab of concrete. It's heavy and hard…but there's oil in that rock! Indeed, all your editor needed to do was take a whiff of this core sample and you could smell the crude bubbling out. Pretty cool, huh? [To be sure, this core sample may not have the traits of every well in a given Bakken oil play, and surely not all U.S. shale formations. Of note, some of the samples I've seen are a lot darker in color. But it gives you an idea of the "tight" rock formations we're dealing with.]
So there you have it, 10,000 ft. down and 10,000 ft. horizontal, in a formation that consists of essentially oil-packed concrete. No wonder they call this "unconventional oil" – and no wonder less than a decade ago we couldn't produce it efficiently.
One of the first stops was an innovative drill site, where Statoil utilizes a Nabors (NBR) drill team. The key here was that instead of drilling one well and then moving along to a new site, the specialized drilling rig is capable of "walking" a few meters along the drill pad to drill multiple wells.
At this particular site, Statoil was planning four wells. All four wells would be drilled by the same rig using the same drill pad. Here's a look:
This multi-well design is highly efficient and reduces overall drill time and costs. The picture above shows you the specialized Nabors rig – the yellow "legs" on each corner allow the rig to lift up and "walk" a few meters over to drill another well. I wish I was there to see that!
After the drilling rig walks around and drills the four-well setup (each well 10,000 feet down and 10,000 ft horizontal) it's time for the "well completion" to begin. Here's what that stage looks like: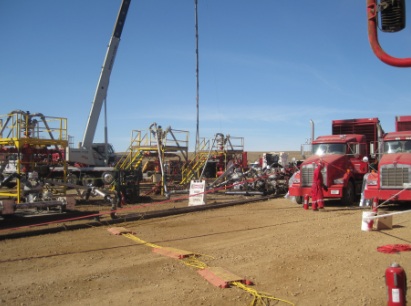 As you can see in the picture above there are three (of the four) wells lined up in a row – each well-head is surrounded by a yellow platform to allow for the completion process. Onsite along with Statoil is the Halliburton (HAL) completion team.
These guys go in and hydraulically fracture and stimulate each well – on site they call this a "zipper frack," meaning they frack the wells one right after another. And you guessed it, since there are four wells right in a row it's highly efficient. Much quicker than traditional one-well setups where a frack team would have to move from site to site.
What you don't see in the picture above is the magnitude of this completion site. I'd have to say there were 30 trucks on site here — a mobile command unit where Halliburton monitors the fracking process, pump trucks, sand trucks, water recycling units, storage trailers, and more.
Everything is engineered at this stage of the game, right down to the sand!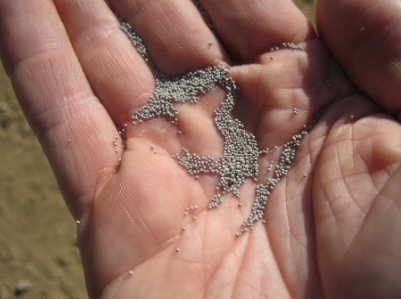 Since the Bakken doesn't have the same physical properties as other shale or tight oil plays, Statoil utilizes special composite sand in its fracking process. As you can see the sand is human engineered into strong little spheres. This product can withstand the immense geologic pressure, 10,000 feet below in the Bakken formation. It lasts 3-4 times longer than natural sand, propping open fracture points and allowing the oil to flow for longer durations.
So far you can see that Statoil uses the best of the best service companies – Nabors and Halliburton. Nabors offers the walking rig setup and Halliburton offers its own proprietary expertise on the completion stage. No complaints from me! After all, this kind of technology and know-how all adds to the bottom line.
Another thing you didn't see in the pictures above, on the completion site, was Statoil's latest fracking technology. At the site pictured above, Statoil is utilizing a brand new water-recycling technology. This process reuses 50% water from other frack operations. As I'm told, it's "game changing" technology that could lead to complete reuse of fracking fluid – instead of having to treat or dispose of it otherwise. Saving fresh water and money? Sound good to me!
Next, we made our way to an active production well, along with some of Statoil's midstream infrastructure – a brand new 40,000 barrel storage facility, with nearby access to pipe and rail transportation. For instance, one of Statoil's storage units is about 5 stories tall and holds 40,000 barrels of crude.
One factor that sets Statoil apart from its competition is the company's ability to move and market the oil it produces. After all, there are plenty of oil producers in the Bakken, but how many can say that they've maximized their midstream logistics? In other words, you've got to make sure you have a profitable place to sell your oil.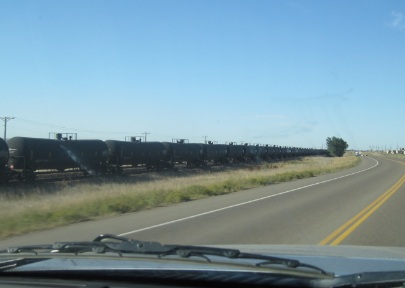 Besides storage facilities Statoil also has a deal set up for 1,000 rail car capacity to move oil from the Bakken, through Wyoming, down to Cushing, Oklahoma. This is the same rail infrastructure that Warren Buffet bet big on…
Statoil also has the potential to send oil to a pipeline in Clearbrook, Minnesota which also flows to Cushing.
These options, along with storage, are vital to making sure you get the best price for your oil. In fact, Statoil has a trading center in Stamford Connecticut set up just to monitor its oil and gas marketing. So when the company produces oil from the Bakken or Eagle Ford, or natural gas from the Marcellus, they can make sure they are actively seeking the best market.
Add it all up and Statoil is an ideal Bakken oil play, as it clearly has its act together when it comes to technology, efficiency and midstream logistics.
Think about it, within just 24 months of acquiring this Bakken acreage, (with the Brigham Exploration deal) Statoil is off to an impressive start. The Bakken acreage was a timely purchase and is already streamlined and ready to profit.
With Statoil, we're talking about a massive, diligent, safe, efficient, innovative company that is incrementally making money in America's shale patch. The Bakken is just one example of this.
As the energy boom surges ahead, Statoil will offer you a solid, safe way to play America's bountiful future… in a Norwegian sort of way.
While Statoil offers a safe, large-cap Bakken oil play, there may be an even more undervalued tight oil play…
One of the few pure Bakken oil plays is Oasis Petroleum (OAS.)
Oasis is a smaller player than Statoil but still holds over 300,000 acres in the Williston basin. The company has 10 rigs turning and with an average total drill time around 20 days, wells are coming online all the time.
This situation presents two opportunities. First, Oasis is low hanging fruit for a buyout. When Statoil bought into the Bakken they paid $4.4B for Brigham — Oasis offers a similar chance for any other multi-national oil company looking to lock in safe, dependable oil.
The second opportunity is simple share price appreciation. Following the bigger theme in the Bakken area, Oasis's production for this year is ramping up. Plus their drilling efficiency is also improving — meaning they are getting more oil production in less time.
Earlier this year, Oasis spent over a third of its market value on a strategic set of acquisitions — a huge move and what some less-in-the-know analysts would call a risky bet. Usually we'd see a swift sell-off and prices would struggle for months with a big acquisition, but with this deal that simply wasn't the case.
After a (very) brief intra-day drop, share prices surged. And today, a few months since the company's announcement, share prices look steady — up over 10% since the acquisition announcement.
It's not often a company's share price rises after an acquisition. But when it does….watch out! As an investor, this deal is exactly what I'd want to see.
Remember, not all shale plays are considered equal. But once the code is cracked on a particular formation, efficient companies can start making a lot of money. That's exactly the case with Oasis.
For an example of what Oasis is doing, all we need to do is look at their "average" Bakken well.
Average well cost is $7.8 million. Average estimated ultimate recovery (EUR) is 600,000 barrels of oil. With a little post-it note math you'll see that for every $7.8M in drilling the company is cashing out $54M in oil (over the life of the well.)
That's a huge payout.
…And yeah, you guessed it, with numbers like that, it's no wonder Oasis was interested in acquiring more acreage.
But get this, the added acreage isn't where the profit potential ends. The company is also still in the process of optimizing its drill plans. Although well costs have been heading lower for Oasis, there are still more efficiencies left to be had.
First up is well spacing. With more wells per pad and more pads per "drilling unit" the company could still make more out of its acreage. Also, according to the company, pad development operations are set to increase from 60-70% in 2013 to approx. 90% in 2014. Think: more wells, more production, less cost.
More added potential for Oasis comes from delineating the Three Forks/Sanish formation. Much like we've seen in other US shale opportunities, the Bakken oil play is a layered or "stacked" play. So not only can production occur in the Bakken formation you could also drill lower to hit the Three Forks/Sanish formation on the same drill pad.
As Oasis, and the rest of the industry, crack the code on these stacked plays there could be even more oil to come. That's great news for a company that just increased its total acreage.
And don't forget, as you and I know, the North Dakota oil is only as good as the logistic plan to get it to market. This is another area that Oasis has a strategic advantage, take a look at the map below: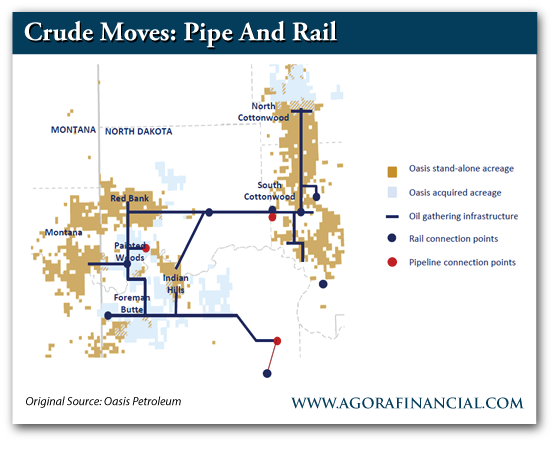 There are a few things to note in the chart. First up, the company's existing, pre-acquisition acreage (noted in brown) is located strategically near both rail and pipe gathering lines. But, as you can see, the acquired acreage (noted in light blue) is a perfect add-on to their existing package.
Both existing and acquired acreage has the potential to hit a lot of oil pay-dirt and Oasis is surrounded by the right infrastructure to get it to market.
Now we're starting to see why the market loved this deal!
Add it all up and this Bakken oil play is looking very strong. If you think like I do, that the Bakken is going to keep getting bigger — remember the Bakken could hit 1 million barrels per day this year — and you're looking to add some exposure to North Dakota's oil bounty, make sure you keep an eye on Oasis.
Keep your boots muddy,
Matt Insley
for The Daily Reckoning
Ed. Note: The future of US energy is bright. And no one sees it clearer than Matt Insley. That's why every morning he sends his Daily Resource Hunter readers a unique email chock-full of insight, analysis and no less than 3 chances at real, actionable investment tips on how to play the US energy boom. Don't miss another issue or chance to learn about life-changing profits. Sign up for the FREE Daily Resource Hunter email edition, right here.
Original article posted on Daily Resource Hunter