A 2-Pronged Approach to Cashing In On Gold
There are two major gold trends we MUST cover today. This is timely stuff – like usual – so listen up!
Follow the wrong gold trend and you could be in for a quick, money-losing surprise.
But follow the correct signal, and you could stay one step ahead of the pack…
We're witnessing the passing of the torch, quite literally.
Ben Bernanke's replacement, Janet Yellen, is set to take on the daunting task of continuing to torch the U.S. dollar – and so far she's keeping that fire burning bright!
"U.S. stocks rose, extending records for benchmark indexes" Bloomberg reports, "as comments from Janet Yellen signaled she will continue the Federal Reserve's stimulus efforts."
Yesterday, at a Senate hearing, we got a taste of what's to come in the Yellen era – in short, Federal Reserve stimulus and low interest rates look to be around for a long time.
According to Michelle Girard, an economist at RBS, the indication from Yellen's previous work suggests zero interest rates "may not be raised until 2016 maybe 2017."
In all, it's clear that Janet Yellen believes that QE and zero percent interest rates are working. And in that regard you and I can assume we're going to see a lot more "dollar be damned" monetary policy.
Four more years of easy money? Yikes. It seems the torch is being passed alright, and the fate of the U.S. dollar will be in the hands of yet another monetary meddler.
Looking at this major trend it's hard not to expect hard assets, like gold, to be a great long-term bet.
But before you begin foraging before the long Yellen winter, there's another important trend to keep an eye on…
Indeed, you may be wondering how yesterday's Senate hearing with Janet Yellen didn't swing the price of gold skyward. I mean, when the news is reporting such blatant disregard for sound currency management, and the price of an ounce barely budges, there's got to be something going on, right? There most certainly is!
The reason that the price per ounce didn't jump yesterday, in my educated opinion, is that there's A LOT of downward pressure on the Midas metal these days. (We'll save the "why?" for another time.)
That said, my short-term outlook for gold isn't rosy. In fact, after failing to hold the $1,300 level I'm surprised that I'm able to get this message to you before gold drops another $50 or $100 bucks!
Here's a look at the six month trend in gold: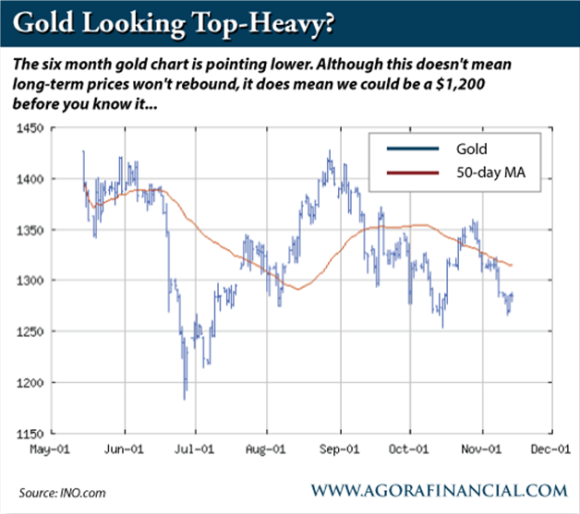 As you can see, after a failed attempt at holding the psychological $1,300-level, recent price action is pointing lower. Easy money be damned!
Fact is, although predicting the exact price of gold has been tough over the last few years, the chart-driven technicals have been highly accurate. It's an indicator that should not be overlooked.
Remember back to 2011 when gold rallied up to $1,900 awfully quick. It wasn't a steady march, but instead a gap-higher type run-up. And as they say in the trading pits, "gaps get filled." So from a technical standpoint it was only natural that gold would fall back down from that nosebleed level to establish a sturdier foundation. Sure, we didn't have an exact idea where this would be, but more recently we've found the footing at $1,300. And in recent days, as the chart above shows, the $1,300-level isn't holding.
Today, the technical, chart-based indicators are screaming that gold is a little top-heavy. Simply put, a move to $1,200 could be in the cards – even in the face of the Fed's passing of the torch.
That said, I urge you not to let this Yellen-mania get you into a gold-buying frenzy. There will be plenty of time to pick up some ounces of the yellow stuff, but now is NOT the time. Here's my suggestion…
First up, if you want to hold gold for the same reasons that I do – that is, to protect your purchasing power and shelter your wealth from a Fed-based onslaught of inflation – I suggest you wait until prices level out above $1,300.
For the metal to head higher, which I believe it will in the long-term, it's going to have to establish a foothold above the $1,300 level. That move will take some time – and the subway doors won't be shutting in your face.
For gold buyers, patience is the key. After all, what good is stocking up on ounces at $1,280 if gold is trading at $1,200 (or lower) in the next month?
In fact, there's another opportunity for short-term traders to play this downside action.
The easiest way to play a downward move in the price of gold, if you're familiar with options trading is to buy outright "put" options on the SPDR Gold ETF (GLD).
Without getting too far into explaining options, buying a put on this ETF is like placing a bet that the price of gold will drop. And right now those bets are cheap to make! Sticking with the short-term idea, you could look at buying the January 2014 $120 GLD Puts (currently trading around $200 a contract.)
Whether you take this trading opportunity to play the downside of gold or remain patient for a long-term buying zone, the takeaway is the same: gold is looking a little top-heavy.
Keep your boots muddy,
Matt Insley
for The Daily Reckoning
Ed. Note: In the email edition of the Daily Resource Hunter, Matt clued his readers into two gold trends you need to be watching right now. If you didn't get it, you might have missed out. Don't let that happen again. Sign up for the FREE, Daily Resource Hunter email edition, right here.