Redefining "Cheap Oil" for the Next 10 Years
Radio the air traffic controller… return your seats to their upright position…
Make sure the runway lights are on… ready the brightly-colored ground crew!
The "blackbird" is in its final approach and set for landing.
Today we'll take a detailed look at an important landing zone for one of our favorite commodities, and why this touch-down event will provide our next long-term profit opportunity…
From a short-term high over $108 a barrel, crude oil began its descent. Since late August, the price of crude is down some 12%.
Today the blackbird is in its final approach to a landing zone we shared with you a few weeks ago. Here's a look…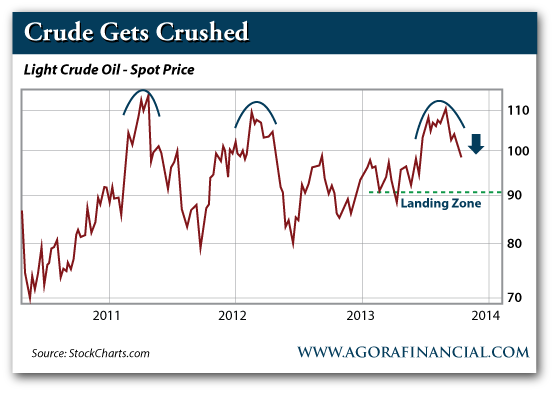 A quick look at today's ticker and the price of crude is much closer to $90 a barrel then it's been for the past four months. And as you can surmise from the chart above, a quick dip lower — to the $80-range — isn't out of the cards, either.
Today we'll scan the long-range radar for crude's long-term direction. As you'll see the blips are painting a rather vivid picture…
Since America's 1970 peak in oil production, our dependence on foreign oil has ballooned. You could say we moved from First Class to Business Class, from Business Class to Coach and back in 2005 it almost looked like we were going to have to sit in the cargo hold with the chickens!
America's oil production has since skyrocketed — thanks to the U.S. shale boom. Today we're producing nearly 8 million barrels per day (bpd) here in the U.S. – for reference, during a trough for production in 2005 we produced a mere 4.2 million bpd.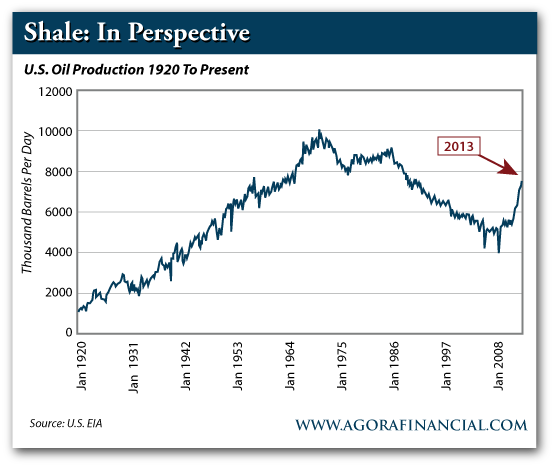 The turnaround has been spectacular and according to this week's report from the International Energy Agency (IEA) the U.S. is set to be the world's #1 producer of oil by 2015. For those keeping score at home, that smashes a 2011 forecast from Goldman Sachs that said the U.S. would move to the top spot by 2017.
Looks like we're two years early to the party – much to the benefit of Americans and U.S. investors alike!
Last week I was kicking rocks in the South Texas Eagle Ford. This week I'm headed to the capitol of the Rust Belt (revival) Pittsburgh, Pa.
But regardless of where I lace up my boots – North Dakota's Bakken, Pennsylvania's Marcellus, the West Texas Permian Basin, the South Texas Eagle Ford, or others — I'm seeing the same trend: more drilling, more knowhow, more efficiencies and more importantly more production.
The one thing I can say with full authority is that drill bits are spinning as I type – doesn't matter if these words reach you at 11am or 11pm. (The only difference for the drill crews at night is that their rig is lit up like a Christmas tree.)
The result? Thousands of shale wells are year being put onto production each year.
Combined with the field reports are the statistics. A quick glance at the most recent report from the U.S. Energy Information Administration and you'll see the same concrete trend. More efficiencies, more knowhow and more production. (Just take a peak at the tail end of the U.S. production chart above!)
With all of this new production hitting the pipelines it's no wonder the price for crude oil is under pressure. And under $100…
The blackbird is landing. But does that mean we're in for a decade of "cheap" oil?
The needle on America's energy gauge is moving in the right direction.
Well, yes and no.
Before I explain, understand this caveat: oil doesn't have to be "cheap" or "expensive." There's certainly middle ground when we're talking about a supply and demand driven commodity, like crude.
So when I say oil is "cheap" I'm just implying it's under the psychological $100 level – or a level that spurs economic growth and doesn't impede it.
"Cheap" oil does NOT, however, mean $20, $30, even $50/barrel. In that sense the good old days are truly gone. Unless there's a catastrophic economic meltdown that pulls demand back, we'll never see those prices again. And if we do see them, much like we saw in 2009, the market will quickly recover and pull prices back to a baseline level.
The most established baseline level we're seeing here, in the post-2008 meltdown world, is $80.
That said, we are indeed in for a decade of "cheap" oil. According to what I'm seeing in the U.S. oil fields and the data that crosses my screen on a daily basis we've got a good 10-15 years of shale oil drilling ahead of us. I won't go out on a limb and say when/where this boom will peak, but I will say that the U.S. has ample supply of oil and gas prospects for the next decade. The needle on America's energy gauge is moving in the right direction.
In that sense I don't think we'll see sustained oil prices above $100 (shielding my forecast from inflation I'll say $100 in "2013 dollars.") Sure, I think we'll see plenty of Middle East-driven flare ups that spike the price over the $100 mark, but again it won't be a sustained rally.
It's a goldilocks scenario here in the U.S.
Oil isn't going to go too low, to stop oil producers from turning a profit (not for long anyhow) and oil isn't going to go too high to impede a global economic recovery.
This is great news for Americans and U.S. investors alike. Keep an eye on these pages for updates on our favorite ways to play this long-term trend…
Keep your boots muddy,
Matt Insley
for The Daily Reckoning
Ed. Note: What's funny, in the midst of this "lull" in oil prices, America has what could be considered the biggest opportunity in its recent history. The last time we were vaulted to a global powerhouse was after WWII. This time, without war, the U.S. could take another commanding step forward as the undisputed economic world leader. What's that mean for investors? To find out, sign up for the Daily Resource Hunter for free, right here, and stay one step ahead on the developing U.S. oil story.
Original article posted on Daily Resource Hunter