2 Companies that Love a Lower Oil Price
We're finally looking up at $100 a barrel oil. Amen! Testify!
With history as our guide, there's a clear indication that this downtrend for oil prices isn't over, either.
Today we'll get into an oily discussion and predict just where crude prices will land – along with two specific ways to play the sector…
But first, a caveat!
My apologies to the Middle East. Each time I've talked about a pullback in oil prices there seems to be an immediate uptick of violence in the region. It all gets back to what I call the "Middle East Effect" where oil prices precipitate higher on any sign of conflict.
The first time was back in May, when oil was trading around $95. After it looked like a supply and demand driven market would pull prices lower, a flare-up in Egypt spurred oil up over $100/barrel.
Then, in August, with prices at $105, I warned again that oil looked a little top-heavy. Soon after that, trouble in Syria, sparking potential U.S. military action, drove prices towards the $110-mark.
Whelp, now oil has dropped through the triple digit mark. So under the doctrine of "3rd time's the charm", let's have at it!
You see, the last two times we've seen a Middle East related run-up past the $110-mark, we've seen prices strategically pullback below $85. It happened in 2011. It happened in 2012. And now, it's set to happen again.
According to the Rude Awakening's Greg Guenthner "since 2011, crude has sharply reversed every time it made a run toward $110. This year is no different. You can see on the chart where crude failed just above $110 in early 2011 and early 2012. We're seeing very similar action this week after yet another go at the highs with no follow-through…"
Greg sees oil prices landing somewhere around $90: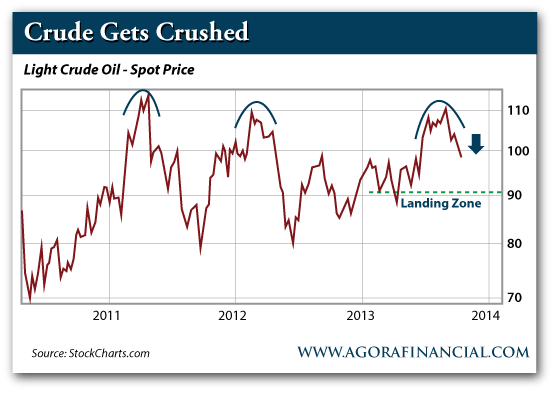 Looking at the chart I think prices may head even lower.
The price of crude will eventually settle out in the 90s, but along the way I think we'll certainly touch the mid-80s. As you can see from the last two big pullbacks, prices tend to rubber-band lower, towards the $80-mark, before settling out.
And besides the telling chart-action, supply and demand are painting the picture. With more oil coming online from U.S. shale plays (the Eagle Ford is now over a million barrels per day and the Bakken is closing in on that same milestone) and production from Iraq ramping up, the world is a lil flush with oil.
From a demand side, China is slowing modestly at the same time efficiencies are having an effect in North America and Europe.
Add it all up and the supply of oil – in the short term – is outpacing the demand.
That's a recipe for lower prices, and we're seeing it right in front of our eyes.
There are winners and losers to every price scenario with crude. But as long as oil stays above the $80 mark, which I think it will, U.S. shale producers will keep moving ahead full steam.
If you don't think domestic production is where it's at, then just look at the trends.
Last week Occidental Petroleum (OXY) made the announcement that it wants to ditch its Middle East exposure. We've covered OXY before in these pages, but this announcement is very positive.
Remember, OXY holds some prime acreage in California's Monterrey shale as well as the Permian Basin. If the company turns away from the Middle East and starts to focus its time and energy on U.S. shale, we could see resurgence in production and share price.
Heck, since late August, we're already seeing shares pop a little: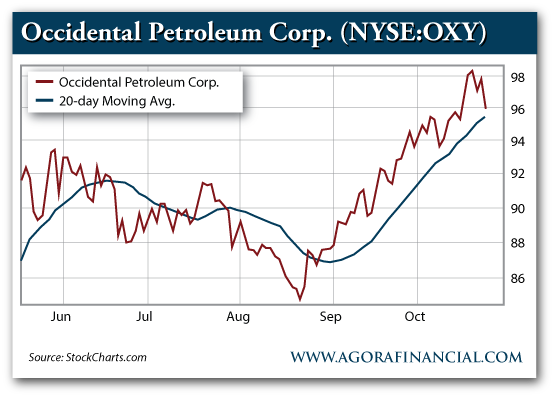 Get away from the Middle East and focus on American opportunities. That's the trend for oil companies and it should be the same for investors like you and me.
Along with OXY, keep an eye on our favorite local players, including Pioneer Natural Resources (PXD.)
While efficiencies continue to kick in for domestic players they'll have plenty of wiggle room with $80-95 oil. And when the next Middle East flare up happens they'll be ready to cash in on higher prices.
For now, keep any eye out for efficient domestic players and use any pullback in oil prices as a solid buying opportunity.
Keep your boots muddy,
Matt Insley
for The Daily Reckoning
P.S. Just a couple of years ago, my colleague, veteran analyst Byron King, told his readers to pile into the American oil boom. If you've been following his recommendations, then you've had the opportunity to make money on ELEVEN different investment opportunities! But now Byron says that was small potatoes compared with what's ahead — a super-boom that could leave the fortunes made by oil behind. I gave my Daily Resource Hunter readers a chance to grab Byron's latest research at a nice discount in yesterday's email. If you didn't receive it, you missed out. But don't worry… I've got another opportunity in today's issue. In fact, I detail no less than 3 such opportunities every single weekday. So don't wait. Sign up for the Daily Resource Hunter, for FREE, right here.
Original article posted on Daily Resource Hunter