Where to Find the Sexiest Energy Assets
Sometimes the most attractive energy assets aren't found in the ground. Rather, at times like today, they are listed on the stock exchange.
Billionaire businessman Carl Icahn is one investor seeing value in energy companies. The hedge fund manager recently announced his purchase of 60 million shares in the Canadian oil and gas producer, Talisman Energy. Icahn has built up a nearly 6 percent stake in the Calgary-based energy producer, worth a whopping $300 million. Even though the company has been a perennial underperformer, after Icahn's tweet, the stock climbed to the highest level in more than a year.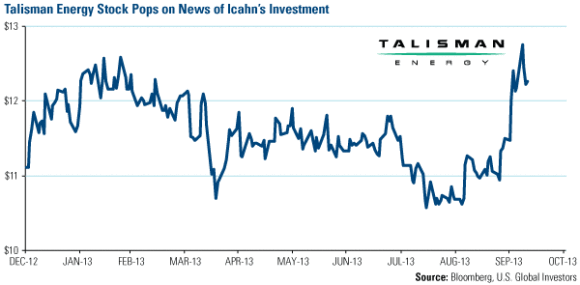 According to Forbes, analysts figure if Icahn and the CEO can successfully turn the company around, "The gain on the legendary raider's 6 percent could be more than $500 million."
I believe this "raider's" deal represents one of the many potentially lucrative energy plays that savvy investors are getting excited about. Whereas last summer, Chinese companies were scooping up valuable resource assets, now a different phenomenon is taking place.
For example, I recently talked to Martin Soong on CNBC Asia about Petrominerales being purchased for about $900 million in cash by Bogota-based major oil producer Pacific Rubiales. Petrominerales' stock popped an incredible 42 percent on September 27 before trading on the stock was halted.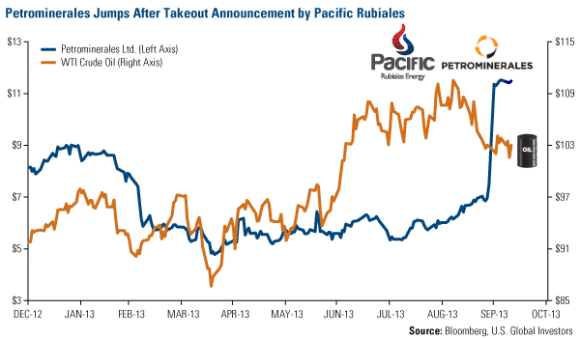 U.S. investors don't have to go far to find significant opportunity, as "U.S. resources are exerting a strong pull" for potential mergers and acquisitions, according to Oil and Gas Investor. There are many profitable energy plays to be found in places such as North Dakota, Ohio, Texas, and West Virginia.
This is likely part of Aubrey McClendon's plan. Even before the "ink was dry on his firing notice," the former CEO of Chesapeake Energy raised a massive $1.7 billion for his new company, American Energy Partners, which is expected to operate in the Utica shale play in Ohio, says MarketWatch.
To benefit from this tremendous growth potential, we think investors should be discriminating buyers. Evan Smith, CFA, co-portfolio manager of the Global Resources Fund (PSPFX) believes great value in today's energy market lies in selectively choosing companies that own high-quality assets in the core basin areas of Eagle Ford, Permian, Marcellus and Bakken. What's important to our investment process is owning oil and gas companies that are growing their reserves, production and cash flows on a per share basis.
The new publicly traded Antero Resources (AR) is a great example. Antero is an experienced Appalachia producer with an attractive resource base in the Marcellus shale basin located in West Virginia, Ohio and Pennsylvania. According to research from ISI, the company's acreage in Utica is the "industry's largest" and early leasing in core areas "has created a scalable and 'blocked-up' acreage footprint that would not be possible to replicate today."
This company has been impressing its industry peers for years, with its experienced management team that has had "proven success having built and sold three companies prior to AR, with all yielding large financial gains," says ISI.
After the company announced its initial public offering, there was so much demand from eager investors that underwriters increased the amount of available shares and raised the IPO price.
Investors have profited handsomely so far. Following its first day of trading, the stock was "up 18 percent after pricing at $44, above their anticipated range," according to the Wall Street Journal.
Another company Evan likes is Gulfport Energy Corporation (GPOR) due to its concentrated acreage in the core part of the Utica Shale in Eastern Ohio and impressive well results, which continue to define this play as one of the best natural gas plays in the U.S.
So even though commodity prices have been unspectacular, oil and gas companies can still produce outstanding results for investors. Consider the plummeting price of natural gas in recent years, which may have caused some investors to dismiss companies related to the commodity. Even though the price of natural gas represented by the United States Natural Gas Fund (UNG) is basically flat on a year-to-date basis, the Bloomberg Natural Gas Producers Index has gained nearly 30 percent.
Investors should expect more M&A activity, especially in the natural gas area, according to Oil and Gas Investor.
As natural gas prices stabilized "non-Free Trade Agreement approvals are starting to flow, and there is a steady stream of announced petrochemical and other gas-fed projects." And with M&A expected to be resurging soon and big hedge fund managers participating, the energy sector will likely be gaining strength.
You might not want to wait much longer.
Frank Holmes
for The Daily Reckoning
Ed. Note: Every day there are new developments in the US energy story. Of course, with so much information to sift through, it can be difficult to make sense of it all. That's why people like Frank Holmes are out there – to block out the noise and give interested investors the best analysis possible. And you'll find just that kind of analysis every day in the Daily Resource Hunter. This free service goes out to over 50,000 readers every single morning and gives them up-to-the-minute research on every aspect of the US energy boom. So don't wait. There are still plenty of opportunities out there. Discover them for yourself. Sign up for the Daily Resource Hunter, for FREE, right here.
Original article posted on Daily Resource Hunter