A New US Boom from the Other Side of the Tracks
The government shutdown has finally affected your editor's little world.
I drink beer, I walk my dog and I read reports on commodities. That's about it!
The beer is still flowing. And the dog is still getting his exercise.
But, my friend, the government has cut out a regular flow of energy reporting from the U.S. Energy Information Administration.
Luckily, even without the usual gamut of reports, there's one profitable energy trend that we can still count on. Today, government shutdown or no, we'll cover how to play it!
"The Energy Information Administration said [Friday] it ceased operations and furloughed staff, stopping publications including the 34-year-old Weekly Petroleum Status Report on Wednesdays, which includes crude oil and gasoline data" Bloomberg reports.
Weekly storage reports, industry data and more will be put on hold while the government figures out its business.
But, although I'll be missing a few of my favorite weekly reports, it's important to note that there's one emerging trend in particular that we can continue to count on.
For starters, America's oil patch is bustin' with production. The US EIA could shut down for years and I'd still hold the assumption that the U.S. will be producing a lot more oil and gas than we ever imagined.
A non-government report (maybe the only ones we'll get from now on) from Reuters shows that in the second quarter of 2014 the U.S. will officially over take Russia as the world's #1 oil producer. Thanks wholly to our friend the shale boom!
And while America's shale boom is highly investable story, it's not what I want you to focus on today. Instead, let's move to the next stage of America's energy boom…
America's railways are bustling with oil and liquid products traffic.
The rail system is the "brand new logistic opening for moving energy supply around North America" says our man on the scene Byron King.
In fact Byron was recently onsite in Western Maryland, muddying his boots at a local rail yard. [To get caught up on this story take a look at Byron's short, 3-minute video about America's booming railways – by clicking below:]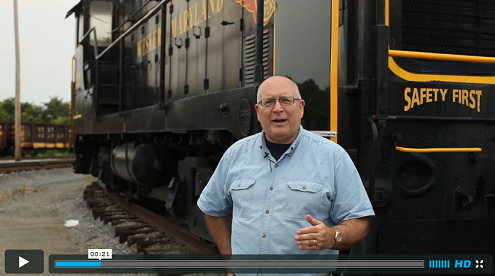 Indeed, America's railways, the same thoroughfare that got this country bustling at the turn of the century, are back in the foreground of America's energy comeback.
More oil and liquids production will continue to pack the rails as the US boom chugs along.
Frankly, the question isn't if rail traffic can keep growing. To be honest growth can only continue so much. Heck, we've already seen a massive influx of crude by rail traffic – shipments are up some 41% since this time last year.
When oil prices head higher… shippers turn to rail for a cheaper haul.
No, I don't think our opportunity sits in expectations for explosive rail growth, but rather that the current level of crude by rail shipments will endure over time even in the face of pipeline efficiencies. Truly, the rail boom is here to stay. And you should count on steady profits from well-run rail companies.
Along with more modest growth in cargo hauls and longstanding need for rail, there's also another reason that I like this sector going forward.
You see, higher oil prices necessitate more rail use.
Rail is the cheap shipping option. When oil prices head higher – like we're still seeing with oil prices around the $100-mark – shippers turn to rail for a cheaper haul. Instead of shipping your widgets by truck or plane you look to the cost savings of the railways.
In that sense, oil packs a double punch for railway profits. With more crude traveling by rail, volume for railroads is up. But in the same sense with diesel and gasoline prices still stubbornly high, non-crude cargo shippers are turning to rail for cost savings. It's a perfect storm for the rail players.
I don't see either of these trends breaking soon, either. More shale plays are blossoming from unlikely locales and the global price of oil is keeping prices supported. Moving forward rails should continue to boom here in North America.
And if you need more reason to like rail players, here are a couple quick-takes:
Not only are railways cheaper than trucks and planes, the cost savings could get even better over time. With the advent of natural gas-fueled locomotives, via liquefied natural gas (LNG), the cheap cost of rail could drop even more. Think 1/3rd the cost!
Also, while crude oil is filling up more railcars, there are other shale-related products that could soon add even more demand. This all gets back to the resurgence of American manufacturing. Things like fertilizer, chemicals and other manufactured goods could soon find a permanent spot in the rail car equation. That's all music to the ears of railroad players.
So how should we play this longstanding boom?
One investment opportunity that we talked about over six months ago is set to payout.
If you recall, back in March we covered the high-flying rail industry. In particular we looked at Canadian National Railway (CNI.) CNI has continued to chug along. Since our March write-up the company is up another 4% (not including dividend payments.)
But back then we had a unique way to play this company using an often overlooked options strategy.
In short, I said "if this stock rises 3%, you can double your money." Yeah you heard that right. The company's shares only have to rise 3% and you can turn every buck into two.
With only a few weeks till October options expiry, this strategy is very close to paying out as planned. Indeed, the over 3% move in the stock is about to turn into a 100% gainer in the options arena. Sure you can't get into the same exact play today, but it's certainly an opportunity to take note.
Looking forward the same profit mentality holds true. Many of these rail companies are riding high (much like Canadian National.) And although the prices for many companies have run up in the past year could be plenty more upside to this story.
Next stop? Higher share prices!
Keep your boots muddy,
Matt Insley
for The Daily Reckoning
P.S. In Byron's short video above he gives you a rundown of the railboom situation – unfortunately he can't just give out his best picks in the sector. In today's free Daily Resource Hunter email edition I gave readers an opportunity to discover Byron't full rundown… complete with a chance to get his specific picks and all the profits that stand to come with them. If you're not a reader of the email edition, don't worry… You can sign up for FREE, right here, and never miss another great opportunity like this one.
Original article posted on Daily Resource Hunter