Bonus Profits from North Dakota's Untapped Oil
The magic number is 10.
With current technology, U.S. producers are able to extract around 10% of the shale oil trapped in a given formation.
Seems really low, right?
Exactly. Today I want to show you the secret behind getting the other 90%. This secret will take America's oil and gas boom to the next level. Better yet, you and I will have a front row seat to profit!
As I type North Dakota's Bakken formation is booming – call it the poster child for America's energy renaissance…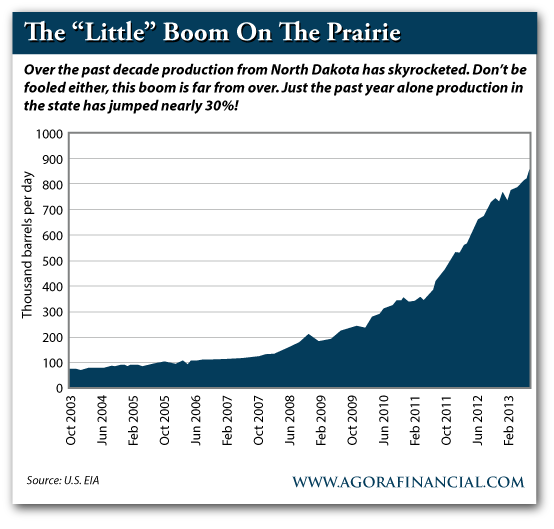 According to the latest information from the U.S. Energy Information Administration, North Dakota is producing 874,000 barrels per day. That represents one of every 20 barrels the U.S. consumes – not bad for a flyover state, eh?
Better yet, according to state officials, output is set to ramp up even more. "Oil production in North Dakota, home to the giant Bakken shale formation, may double to 1.6 million barrels a day by mid-2017" Rigzone reports.
Please, please, please, realize the gravity of this situation. 10 years ago the oil output from North Dakota was negligible at best. Today it's the U.S.'s second highest producing state. A sign of the times, to be sure – a profitable one at that!
But even though there's mucho oil coming out of the prairie ground of North Dakota, about 90% of the shale oil remains trapped.
Back to the magic number above, with production as it stands, drillers are only pulling about 10% of the shale oil to the surface.
Indeed, billions of barrels are being left behind.
The secret to getting at these bonus barrels is simple: improved technology.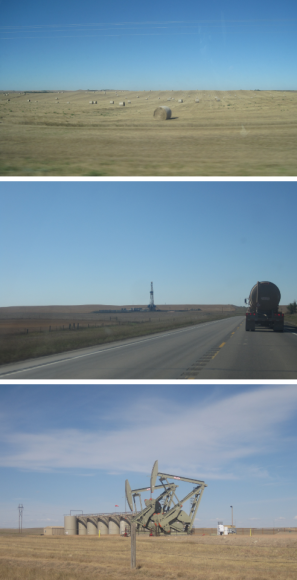 You see, the tech revolution in the oil field isn't just a "cool" one-off idea that got us some extra barrels. Nor is it about a few roughnecks stumbling upon a patch of "easy oil", like Jed Clampett. No, today's tech revolution is the beginning of a decades-long production boom. Indeed, hydraulic fracturing, horizontal drilling and 3D seismic are a foot in the door. Over time expect that door to be thrown wide open – in fact, we're already seeing it happen.
Industry insiders talk about the boom in different ways…
At first there was a lot of "we're in the early innings" talk. I've also heard, in football parlance, that "we're in the first quarter." But more recently the rhetoric is changing. I'm now hearing "we're in the first 5 minutes of the first quarter."
Regardless of how you say it, America's shale boom is just getting started. And the leaps and bounds that we're seeing in oil field technology are going to continue moving U.S. production higher. This much I guarantee.
I'm like a broken record on this topic, I know. But it's not often a broken record can make you this much money over the long-haul. So before you write off my crazed redundancy, hear me out once more…
Last year I muddied my boots outside of Williston, ND – home of the Bakken shale play.
The place was booming. The town's single Wal-Mart was packed, you could barely get a hotel room (and at an outrageous price at that) – heck it was tough to find a seat at the local Applebee's and the parking lot was jam-packed with Ford and Chevy trucks.
Oil production was booming, too.
But under that same prairieland I witnessed last year, there's even more oil to come. Over the years expect to see production rise, and stay elevated for decades to come… Decades.
Indeed, as technology improves, more oil will flow from the rolling hills of North Dakota – same prairie, more oil!
And get this: while the Bakken is leaving behind over 90% of the shale oil in place, other shale formations are leaving even more black gold behind. The Eagle Ford for example is producing closer to 5% of the shale oil in place. That means in some spots there's still 95% of the oil left in place. Talk about a future target zone!
The point of today's missive is simple: if you've been lulled to sleep by my incessant chatter about America's stunning energy comeback, it's time to wake up! This story is quite possibly the biggest investment opportunity of the next few decades. The production numbers prove it – and the forecasts portend the bigger trend.
The secret to unlocking the trapped oil in U.S. fields is tomorrow's technology. As oil drillers get better at finding and producing these shale hotspots, expect to see even more crude and profits!
Keep an eye on these pages. I'll be sure to keep you posted on our favorite shale plays.
Keep your boots muddy,
Matt Insley
for The Daily Reckoning
P.S. Great news for you and me: America's shale boom is following a standard pattern. One that could lead to a swift round of profits! If you haven't heard about the latest round of this massive, game-changing boom – along with a full host of ways to play it – you'll want to sign up for The Daily Resource Hunter. It's a completely free letter that gets delivered straight to your email inbox every single morning… and it's full of actionable investment opportunities. Don't sleep on the U.S. energy story. Sign up for The Daily Resource Hunter, and start bagging profits immediately.
This article originally appeared at Daily Resource Hunter